A few years ago the Deutscher Sprachrat, which promotes the German language at home and abroad, ran a poll to find "the most beautiful German word".  Musing on the results would easily fill a whole post, but I mention it here because, having occasionally worked as a freelance translator, I've got a little list of unfavourite German words, which – perhaps perversely – reminds me of this campaign. Unlike the words in the poll, however, my unfavourites are defined not by sound or meaning, but by downright difficulty to translate.

Of course German, like every language, has its classic "untranslatables", words considered to have a powerful symbolic or emotional weight impossible to convey exactly in another language. One of the poll winners is a fine example.  Look up a dictionary definition of "Habseligkeit" and then read the winning justification and you'll appreciate the gap. Luckily I don't usually encounter such poetic problems as I mainly translate promotional material for academic publishers. Instead it's the language of German academia which causes me grief.

For example, the verb "erschließen" tends to make my heart sink;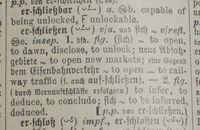 it basically means to open something up or make it accessible, but used to describe the function of a library catalogue – "Der Katalog erschließt zum erstenmal die Manuskripte der Bibliothek" – it can make for awkward English unless you change the focus slightly: "The catalogue offers the first full description of the Library's manuscripts". Provided that is the case and the catalogue is fully descriptive rather than a finding aid. "Systematisch" is an other particular unfavourite, "Ansatz" can be a headache, and even "Wissenschaft" itself can be tricky.

Another problem occurs where German uses both a "Latin" and a "Germanic" word for the same thing. Of course you can often pull off the same trick in English, but sometimes the two German words only have one obvious English synonym: I recently found an author's  "Selbstbiographie" described in the same sentence as an important "autobiographisches Zeugnis", but "His autobiography is an important autobiographical document" sounds distinctly odd in English.

Out of context, or to a formally qualified translator, this probably sounds like small beer. But I do find that it's the superfically straightforward words, rather than the famous untranslatables or false friends, which set traps for the unwary. It fills me with admiration for translators who work on literary texts and have to (re-)create a work or art and reflect an individual voice as well as conveying a coherent meaning. My colleague Patricia Tiney has successfully done just that in her newly published  translation of a story by Theodor Fontane, Under the Pear Tree,  the first full English version of this work.
Finally, despite my rogues gallery of unfavourite German words, I have my own favourites too. Like the Sprachrat's poll respondents, I love these for their sound as much as anything. And top of my personal poll? For many years that has been "Ewigkeit" (Eternity) – a lovely, spacious word for a lovely, spacious concept.
[SR]