This is not about Peter Mandelson and his memoirs; I wouldn't dare to write about power games here, but since I mentioned it, I might as well plug the current major exhibition called Magnificent Maps: Power, Propaganda and Art.
The reason for choosing this title is that I remembered an interesting line from The Third Man  (1949) in which Orson Welles says as a criminal on the run:
In Italy, for thirty years under the Borgias, they had warfare, terror, murder and bloodshed - they produced Michelangelo, Leonardo Da Vinci and the Renaissance. In Switzerland, they had brotherly love and five hundred years of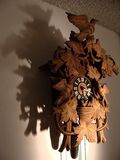 democracy and peace, and what did they produce? The cuckoo clock!
If you've never seen the film, you can watch the extract here, or - if you have a valid reader pass - you can come and read the script, @ BL X.989/29277.
(Photo by iamaruntimeerror ; some rights reserved)
In my last post for this blog as German-Swiss curator, I do wonder what people think about Switzerland. Surely Welles was wrong - not least because the cuckoo clock was most probably first made in the Black Forest (you can follow that lead, if interested, by looking at: Kochmann, Karl. Black forest clockmaker and the cuckoo clock [1987 ed.] ([Concord, Calif.] : Antique Clocks Publishing, 1987.) , @ BL (B) PK 51). So the cuckoo clock is not the "only" invention of note from Switzerland (apart from 500 years of democracy). There are so many significant contributions from this country of the Alps that I could write a very long post here.
However, it is clear that for those who don't know, say, Paul Klee, they will not be convinced that either he or Switzerland are important to this world. Therefore, to them, he would not feature as an innovative Swiss person. When I went to Bern last December (a short break whilst going to see family in Germany anyway; no worries, no public money was used for this), I went to the Zentrum Paul Klee. This Centre is in two ways extraordinary: a modern yet pleasant building which progressively combines exhibition, research and outreach in three seamlessly connected buildings, and a thorough as well as edutaining and scholarly engagement with Klee's work. Some people might argue, but one could say that Klee was the third man (after Wassily Kandinsky and Franz Marc) in the almanac Der Blaue Reiter (for a pamphlet suggesting this, see BL MFE 48 *1741* 1.003.003 DSC).
Of course, you might say that modern art (or any art) is not an interest of yours; in this case, please go to Wikipedia's list of famous Swiss people  and pick an area in which you have an expertise or interest. Roger Federer? Martina Hingis? Henri Nestlé? Ferdinand de Saussure?
However, famous Swiss men and women are only one side of this story. For some, the dominance of German and Austrian culture has led to belittling Switzerland as the "smaller German" brother (of course disregarding the rich contributions by French and Italian Eidgenossen). Let me blow a final fanfare for all-things Swiss. The last bugle call, at the last post.
[CG]