The English captivity of Mary, Queen of Scots
A new display focusing on the last years of Mary, Queen of Scots, as a prisoner in England has opened at the Sir John Ritblat Gallery: Treasures of the British Library. It draws on unique documents and manuscripts from the British Library's own archives, as well as a private collection of previously unknown letters relating to Mary's captivity under the supervision of Sir Ralph Sadler during 1584-1585.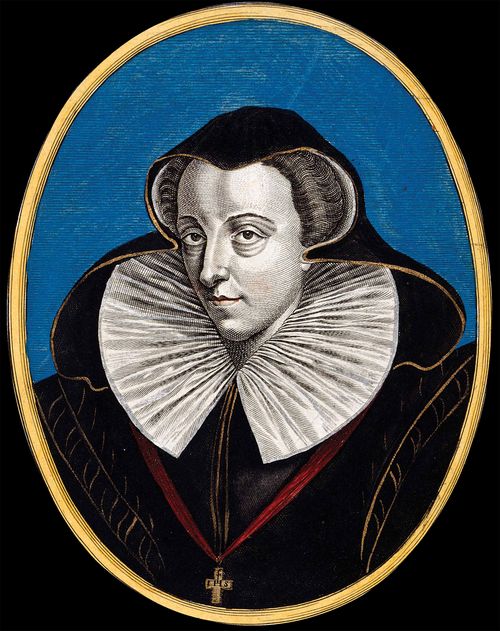 Mary was a popular ruler until her disastrous marriages, first to Lord Darnley in 1565 and then to the Earl of Bothwell in 1567, who, along with Mary, was implicated in Darnley's murder. On 16 May 1568, Mary fled to England after being forced to abdicate the Scottish throne in favour of her one-year old son, the future James I of England. Mary fully expected her cousin, Elizabeth I, to support her efforts to regain the Scottish throne. Instead, Mary was held in Carlisle Castle under the close guard of Elizabeth's councillor, Sir Francis Knollys.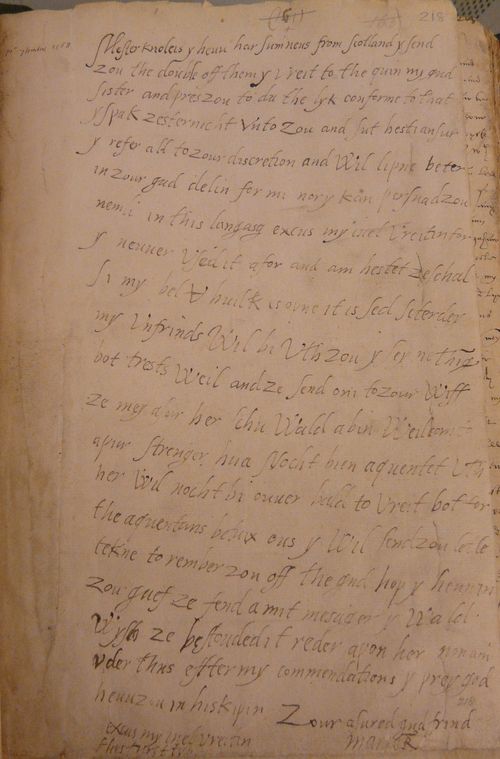 Letter from Mary, Queen of Scots to Sir Francis Knollys, 1 September 1568: London, British Library, MS Cotton Caligula C.i, f. 218r. 
On 1 September 1568, Mary wrote this letter to Knollys asking him to intercede with Elizabeth on her behalf. It was the first letter that Mary, who had been raised in France, penned in English and at the foot of the letter she asks Knollys to 'Excus my ivel vreitin thes furst tym' ('Excuse my evil writing this first time').
Mary would remain under house arrest until she was finally brought to trial in 1586, for complicity in the Babington plot to murder Elizabeth and to place Mary herself on the throne. Despite Elizabeth's indecision and reluctance to execute an anointed sovereign, Mary was beheaded on 8 February 1587 at Fotheringhay Castle, Northamptonshire.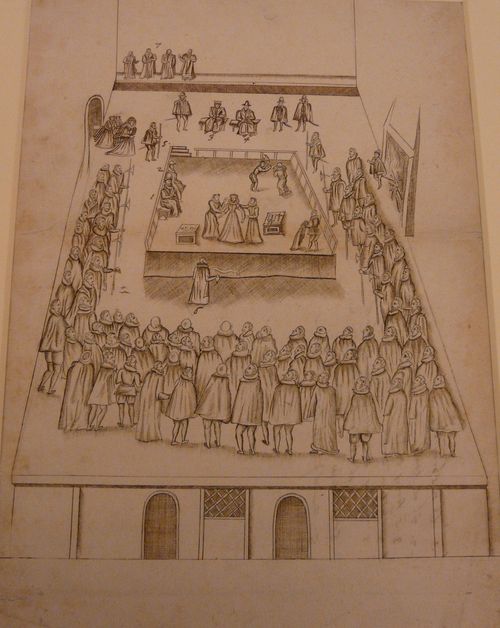 Contemporary pen-and-ink drawing of the execution of Mary, Queen of Scots: London, British Library, Additional MS 48027, f. 650*
This pen-and-ink sketch, from the papers of Robert Beale, Clerk of the Privy Council, shows Mary three times: entering the great hall; being attended by her gentlewomen on the scaffold; and, finally, lying at the block with the executioner's axe raised ready to strike.
The Sir John Ritblat Gallery is the British Library's permanent exhibition space, is open 7 days a week, and is free to all visitors. It currently hosts great treasures such as the Lindisfarne Gospels and Magna Carta, in addition to the Mary, Queen of Scots' display.
Andrea Clarke