Wrestling Mania
Wrestling is pretty unusual among the sports at the Summer Olympics: it has two separate disciplines, Freestyle and Greco-Roman; while Greco-Roman Wrestling is the sole event in which only men compete (women will contest Boxing for the first time in 2012). There is a subtle distinction between the two styles. In Greco-Roman Wrestling, holds below the waist are forbidden, resulting in a greater emphasis on throws, since a wrestler cannot attempt to trip their opponent. Freestyle Wrestling, as the name implies, gives the competitors more leeway into how to bring their fellow-contestant to the ground. The ultimate goal of both versions is to pin your opponent to the mat.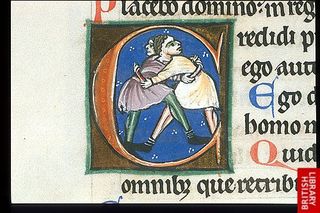 A decorated initial with two wrestling men (Oxford, 1st quarter of the 13th century): London, British Library, MS Arundel 157, f. 95v.
Although the name "Greco-Roman" suggests a connection with the Classical past, it's now believed that this form of wrestling was developed by a Napoleonic soldier, Jean Exbrayat (hence another name for the sport, "French Wrestling"). But this minor trifle needn't prevent us from including wrestling in another of our award-winning posts on medieval manuscripts and the Olympics (our own award, for the most tendentious connection with the Olympic Games).
Wrestling is an ages-old pursuit, and not surprisingly it's depicted in many ancient books. Here are some examples for your delectation -- the question is, can you guess whether these are freestyle or Greco-Roman wrestlers?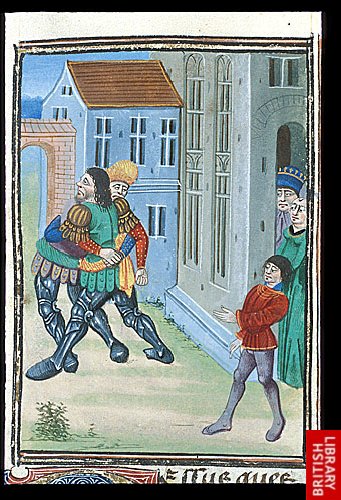 The wrestling of Hercules and Achelous, in a French translation of Ovid's Metamorphoses (Netherlands, 4th quarter of the 15th century): London, British Library, MS Royal 17 E. IV, f. 136r.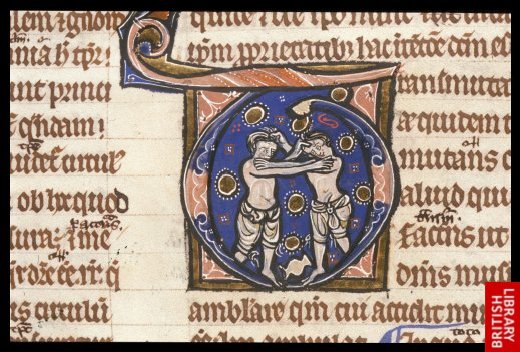 Image of wrestlers in a copy of Aristotle's Libri naturales (England, 3rd quarter of the 13th century): London, British Library, MS Harley 3487, f. 34r. 
And here is perhaps the most famous wrestling match of them all, Jacob and the angel, depicted in two manuscripts from England and Catalonia (the famous Golden Haggadah). Wrestling fans out there -- can you spot any arm drags, bear hugs or headlocks?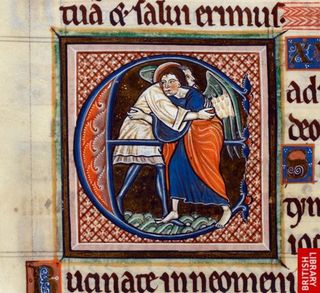 Jacob wrestling with the angel (Oxford, 1st quarter of the 13th century): London, British Library, MS Royal 1 D. X, f. 74v.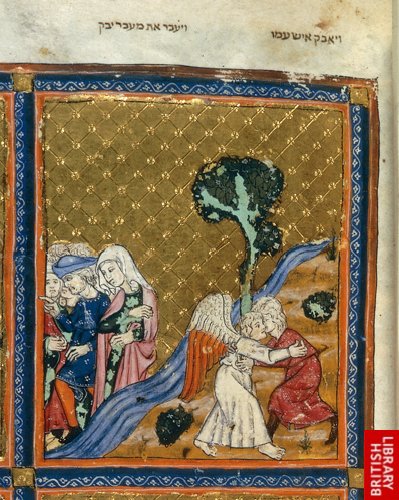 Jacob wrestling with an angel, from the Golden Haggadah (Catalonia, 2nd quarter of the 14th century): London, British Library, MS Additional 27210, f. 5r).
You may like to know that a day-conference, Sourcing Sport: Current Research, British Library Resources, is being held at the British Library on Monday, 21 May (10.00-17.30).