"Languages are the best vehicles of mutual understanding and tolerance. Respect for all languages is a key factor for ensuring peaceful coexistence, without exclusion, of societies and all their members."
Irina Bokova, Director General of UNESCO, Message on the occasion of International Mother Language Day 2011
Today is International Mother Language Day, established by UNESCO in 1999 to promote linguistic and cultural diversity and multilingualism. The theme this year is Information and Communication Technologies for the safeguarding and promotion of languages and linguistic diversity.  Over half of the world's languages are endangered, and UNESCO aim to raise awareness of the role new technologies can play in promoting linguistic diversity.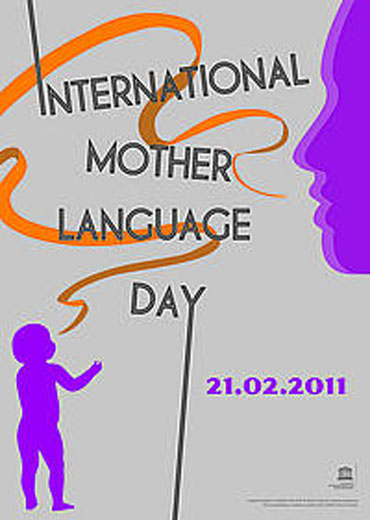 The Endangered Languages Project (also funded by Arcadia) at the School of Oriental and African Studies, London aims to document endangered languages, train language documenters, preserve and disseminate documentation materials, and support endangered languages. It runs three programmes: a documentation programme (ELDP) which provides research grants; an academic programme (ELAP) which runs postgraduate courses in language documentation and description, and an archiving programme (ELAR) which seeks to preserve and disseminate endangered language documentation.
Several EAP projects have digitised material written, spoken and sung in endangered languages, scripts and dialects, including:
EAP051 Bamum script and archive project: saving Africa's written heritage
Led by Dr Konrad Tuchscherer, EAP051 provided additional funding to the Bamum Script and Archives Project, to enable digitisation and listing of documents written in the Bamum script. The project was also heavily involved in the creation of a Unicode font for the script. 
EAP089: Reconstruction of sound materials of endangered languages in the Russian Federation for sound archives in Saint Petersberg
The project digitised material in the following languages: Azerbaijan, Balochi, Chagatay, Chatror, Dari (Farsi-Kabuli), Enets, German, Kati, Kerek, Mendzon, Nenets, Nganasan, Parachi, Pashai, Pashto, Russian, Shugni, Tajik, Udeghe, Vaygali, and Wakhi (Vakhan).
There are other EAP projects which deal with endangered languages and scripts; more information can be found by searching our webpages.
Alex