The most translated work by the Ukrainian national poet Taras Shevchenko whose bicentenary we celebrate on 9 March is his short poem 'Zapovit' (Testament). It is sometimes wrongly assumed that Shevchenko wrote it shortly before his death on 10 March (new style) 1861. Yet it was created on December 25 1845, when the 31-year old poet and painter lay seriously ill with pneumonia during his second journey to Ukraine. Shevchenko stayed in the city of Pereyaslav with his doctor friend Andriy Kozachkovsky, who treated him. Two years later, already a private soldier in the fortress of Orsk, Shevchenko dedicated a poem 'A.O.Kozachkovskomu' (To A.O.Kozachkovsky).

Kozachkovsky's House in Pereyaslav (photo from website of the National Historical-Ethnographical Reserve Pereyaslav)

While fighting the illness Shevchenko (his self-portrait from 1845 below) was composing his  'last will and testament':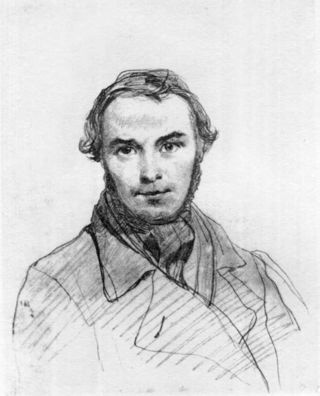 When I am dead, then bury me
In my beloved Ukraine,
My tomb upon a grave mound high
Amid the spreading plain,
So that the fields, the boundless steppes,
The Dnieper's plunging shore
My eyes could see, my ears could hear
The mighty river roar.

(Translated by John Weir)



'Zapovit' is so well known in Ukraine that it enjoys a status second only to Ukraine's national anthem, 'Ukraine is not yet dead'. It quickly spread amongst Ukrainians but was published for the first time only in 1859 in Leipzig as part of the small publication Novye stikhotvorieniia Pushkina i Shavchenki (New poems by Pushkin and Shevchenko; 12265.bb.5(2))
The poem attracted the attention of many composers: there are more than 60 musical interpretations of 'Testament'. The prominent Ukrainian composer Mykola Lysenko composed 'Testament' as his first choral work, and it was performed in 1868. The most famous, however, is the version by a teacher from Poltava, Hordiy Hladky. Here is the famous Ukrainian basso cantante Borys Gmyria  singing 'Zapovit' with the capella 'Dumka' in the 1960s film about Taras Shevchenko.
The British Library holds some books with translations of 'Zapovit' into many languages. The most ambitious of these projects, entitled  Zapovit" movamy narodiv svitu ('Testament' in languages of the world, Kyiv, 1989; YF.2007.a.31866), contains translations of the poem into 150 languages, including Esperanto. The previous edition, Zapovit movamy narodiv svitu (Kyiv, 1964; X.907/682) had translations into 55 languages.



A few smaller projects were realised in Soviet times. Two miniature editions (picture above by Rimma Lough) with notes were published by the publishing house Muzychna Ukraina  (Musical Ukraine):   'Zapovit' T. Shevchenka movamy narodiv SRSR ('Testament' by T.Shevchenko in the languages of the USSR, Kyiv, 1984; Cup.550.g.355) and 'Zapovit' T. Shevchenka hermano-romansʹkymy movamy ('Testament' by T. Shevchenko in Romano-Germanic languages; Kyiv, 1983; Cup.550.g.353)
New translations of  'Testament' are included in two full editions of Kobzar  in English in 2013 (one at YF.2014.b.264, the other awaiting shelfmark). More translations in English may be found here  and in other languages here.
How about 'Testament' itself? Shevchenko was first buried in St Petersburg. However, fulfilling the poet's wish to be buried in  'my beloved Ukraine', friends arranged to transfer his remains to his native land (by train to Moscow and then by horse-drawn wagon). Shevchenko's remains were buried on 8 May on Chernecha Hora (Monk's Hill, now known as Taras Hill) by the Dnieper River near Kaniv. A tall mound was erected over his grave, now a memorial, part of the Kaniv Museum-Preserve.
 How about the second part of 'Testament'? Ask contemporary Ukrainians yourselves.

Olga Kerziouk, Curator Ukrainian Studies