Having recently seen a revival of Brian Friel's  dramatic adaptation of Fathers and Sons   "after the novel by Turgenev", I am struck how central Bazarov  is to this novel even though in this version he hardly says anything when he first appears. Instead of hearing his Nihilistic philosophy set out reinforced by all the strength  of his personality, we hear Bazarov's beliefs and aspirations described in the words of his disciple Arkady Kirsanov with brief interjections of confirmation of correctness from Bazarov.

Turgenev in 1838 from A.G. Ostrovsky, Turgenev v zapisiakh sovremennikov (Leningrad, 1929) British Library X.958/4290.
It is fascinating to think Turgenev found the inspiration for the strength of Bazarov's personality when on a visit to the tempestuous Blackgang Chine on the Isle of Wight (This inspiration is explored in Tom Stoppard's play Salvage (The Coast of Utopia - Part III, p.84-87) in which Turgenev appears; you can read the relevant excerpt here.) But do we see this force expressed when he confronts his most fearsome ideological adversary, the anglophile Pavel Kirsanov?  On the contrary he is quite submissive and refuses to express any interest in the duel in which he is invited to take part.
Ironically, where Bazarov does express a good deal of emotion and passion is in his declaration of love for the wealthy widow Anna Odintsova, a love of the romantic kind which he has earlier dismissed as a myth. Perhaps this, then, is the whole point of the novel – to show the impossibility of a totally nihilistic personality (at least with his background – better attempts at this type of character were made by Dostoevsky). Bazarov inherits the ordered approach to life of his doctor father with his commitment (though using outdated methods) to improving society embodied in his continual use of Latin quotations, but he also has the passion of his mother (which in her case is directed towards religion, which Bazarov despises).
What is also brilliantly realised in this dramatization and in Lyndsey Turner's production at the Donmar Warehouse  is the lasting effect that Bazarov has on others, notably in the final scene after his death where Arkady has an emotional outburst reminding the chattering classes who have almost returned to their trivial preoccupations what a great loss has occurred to them and Russia in the death of Bazarov – the force of his personality is very much present in that last scene even though he isn't.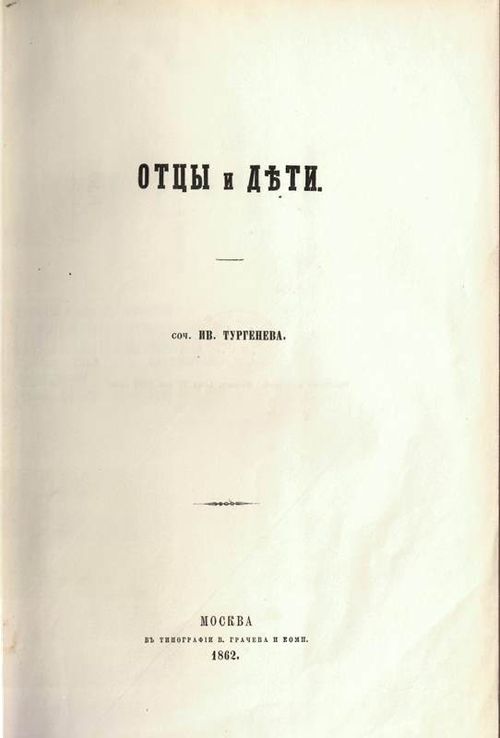 The British Library holds a copy of the first edition of the original Russian text of Fathers and Sons (Отцы и Дети) published in Moscow in 1862 (shelfmark 12590.h.25). The title page of this copy is reproduced above.  The first English translation of the novel by E. Schuyler  was published in 1867 (shelfmark 12590.bb.21) . Among the notable subsequent English translations held by the British Library is that of Constance Garnett. Translated as Fathers and Children (the literal meaning of the title), this was included in the Novels of Turgenev  (London, 1894-99;  012590.e.50.)
Peter Hellyer, Curator Russian Studies
References
Brian Friel,  Fathers and sons: after the novel by Ivan Turgenev (London, 1987). YC.1987.a.9790
Patrick Waddington,  Turgenev and England (London, 1980) X.950/2479