#CreateUK week began this afternoon and will celebrate the phenomenal success of the UK creative industries which generates £8 million per hour for the UK economy and continues to go from strength-to-strength. 
One strength is definitely the rise of comics and graphic novels. We're seeing a lot of creatives come to our Comics Unmasked exhibition and our first ever series of short courses on creating graphic novels has sparked a lot of interest. Emma Hayley, publisher and managing director at independent publishing house SelfMadeHero, tells us just what's going on in today's graphic novel market and gives aspiring graphic novelists and artists some tips on how to pitch to publishers.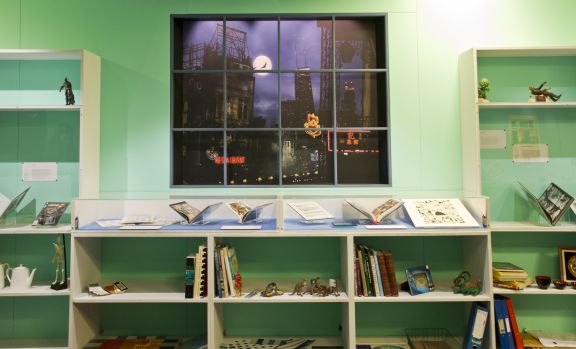 Newly commissioned artwork by Dave McKean inside an artist's studio in Comics Unmasked (c) Tony Antoniou

The value of the UK comic book and graphic novel market has risen by almost one thousand per cent in the last ten years, and is continuing to grow. We've seen general book shops (not just comic book shops) embracing the medium with hugely expanded graphic novels sections.
In 2012 Mary and Bryan Talbot's a graphic novel Dottor of Her Father's Eyes (on display in the Library's Comics Unmasked exhibition) won in the best biography category at the Costa Book Awards; this was the first year that two graphic novels were nominated for the award. As well as this, 2013 saw two British creators gaining recognition at the long-established and prestigious Angouleme International Comic Festival in France.  
Also in 2013, the Edinburgh Book Festival embraced the medium by having a special focus on comic books and graphic novels with their series of events called 'Stripped'. And with new comic book events popping up, such as The Lakes International Comic Art Festival last October, and attendance booming at already established festivals like Thought Bubble (where the first British Comic Awards began in 2012), we are witnessing a very exciting period in the UK's comics and graphic novel scene.
This year, the British Library's Comics Unmasked exhibition is further testament to the fact that the UK is thirsty for the medium. With comics and graphic novels becoming firmly entrenched in popular culture, publishers of the medium are enjoying a new dawn in publishing. It wasn't that long ago that British creators had to look to Europe or the US for commissions, but now creators are seeing their work commissioned more and more by UK-based publishers.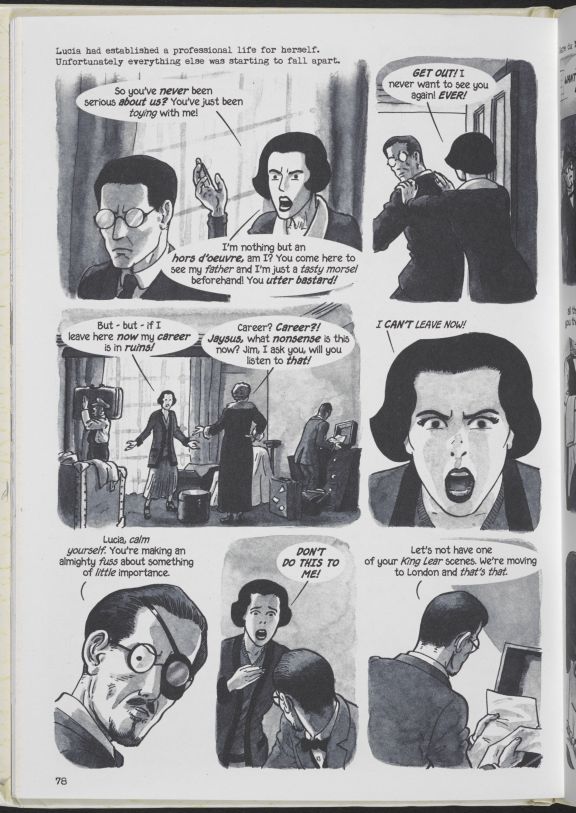 Dotter of her Father's Eyes, 2012, by Mary Talbot, Bryan Talbot (c) Mary and Bryan Talbot

If you've got an idea for a graphic novel and you want to pitch it to a publisher, then study the publisher's website and see what kind of books they release. If your idea fits in with one of their series (make sure that you don't send a superhero pitch to a publisher that never publishes superhero stories!), then I would recommend sending them a synopsis, with around eight pages of sequential art fully finished and lettered to the publisher's email or postal address. Some publishers may have some specific submissions guidelines on their website, so you should follow these if they do.
If you want to send your pitch by email and you don't get a response, then try posting your pitch. Publishers receive a lot of pitches every day, so find a way of making yours stand out. It's always worth sending  a follow-up email a few weeks later to at least check that they received the pitch. If you don't hear back from them, don't get disheartened, editors are busy and not every submission can always get a response, in spite of best intentions. It doesn't necessarily mean your pitch is substandard, the publisher may have just decided not to take it any further for other reasons.
Try and make as many connections as possible by going to comic cons and festivals throughout the year. Meet and share ideas with other artists. Show publishers and editors your portfolio if you can. If you're a writer bursting with ideas then try and find an artist to partner up with. If you're an artist but your strength isn't writing, then find an appropriate writing buddy.
Read as many comics and graphic novels as you can, and attend as many events as you can. Monthly events like 'Process' at Gosh! Comics is a good starting point. It's a friendly and welcoming industry and you can find the encouragement that you need by sharing your ideas. 

Thanks Emma!
You can pitch your idea for a graphic novel to Emma Hayley (and maybe even meet your future artist/writer partner) this Wednesday, 2 July as part of our short course Mastering the Graphic Novel - Pushing the Boundaries, From Pitch to Publication. Tickets here.