Lucy Sparrow's felt Cornershop project is all over the news at the moment, and it sounds so fun. She raised £10,000 on Kickstarter to create a cornershop in Bethnal Green with products made entirely out of felt. And I mean everything. Chewing gum, fish fingers, Irn Bru, cat litter and instant noodles.  Even the cash register is made of felt!  It's open until 31 August if you fancy a visit.

Image: Fish fingers from the Cornershop
It got me thinking about some of the books we have in the British Library collection that are not made of paper. They fall under the category of 'artists' books' and we have items from around the world. Our Curator, Carole Holden, has written in the past about Andy Warhol's Index Book which includes a balloon and Klaus Scherübel's Mallarmé: The Book, which is made of styrofoam.
With help from The Art Fund, in 2009 we acquired Marinetti's metal Futurist book Parole in Libertà, also known as The Tin Book. Its full name is Parole in Libertá Futuriste Olfattive Tattili Termiche ('Futurist Words in Freedom - Olfactory, Tactile, Thermal'). It is about rejecting the current format of sentences and words and moving towards "words in freedom".
The production of the book is fascinating. Its designs are lithographically reproduced over 30 pages. It was manufactured in a tin can factory in Italy. And of course, the tin pages reflect the Futurist love of the machine.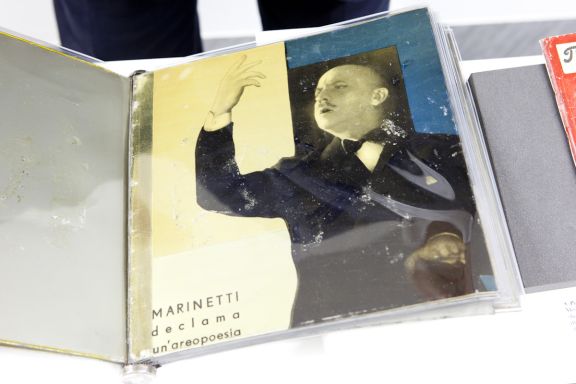 Image: Marinetti's Parole in Libertà
Futurism was an artistic movement celebrating the beauty of technology, with the belief in looking forward, rather than the past. Marinetti even went so far as to say "destroy the museums, the libraries..." A little ironic in that his book is now in our collection, to be preserved in perpetuity.  I'm very glad we do have it, as it is visually stunning.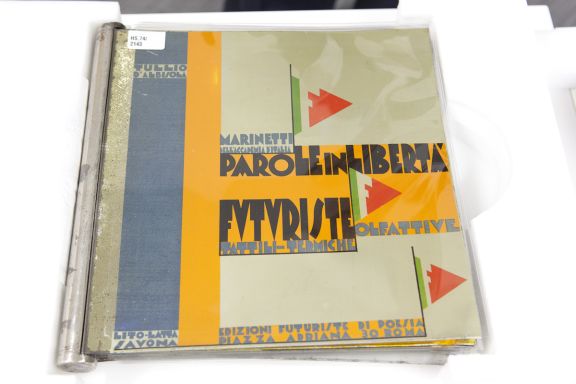 Image: Marinetti's Parole in Libertà
If you're a fan of his work, you'll be interested to know that the British Library has over 70 books written by Marinetti (1876-1944), as well as a number of his manuscripts and sound recordings. It's a fantastic collection.  You can find out more about how you can use our collections on our 'Help for Researchers' page for artist's books, fine presses and book art. And I've done some of the hard work for you - here is the catalogue link for our Marinetti Tin book.