As part of our Terror and Wonder: The Gothic Imagination exhibition, we asked writer Emma Tucker about gothic fonts (of which there are lots of examples in our archive). Emma is a writer covering design, music, and culture. She's currently working on a new design and type-focused print magazine for Monotype. 

There's no argument that cultural perceptions of the gothic come with a set visual language, informed by years of book covers, film posters, and history. Stereotypical graphic images of the gothic are often accompanied by appropriately spiky typography; the severe angles and points of the letterforms calling to mind engravings on ancient tombstones and the spikes of stakes. In fact, the typographic link has become so overt that too 'obvious' depictions of the gothic now feel inauthentic, or mocking.
There's also the borrowing of gothic type – or blackletter, as the script is commonly known – for music subcultures: punk, heavy metal, black metal, death metal. There's no doubt that, in the eye of today's culture, blackletter references the dark, the unapproachable, and somehow the undefinably supernatural.

The dark undertow of gothic literature is reflected in gothic type's own dark history, from its time as a vehicle for German national identity, through to its cultural appropriation by the Nazis. The more correct term for gothic type – blackletter, also known as broken script – refers to the calligraphic script of the Middle Ages, often hand-written by monks transcribing religious texts.

The very first metal type was born from this calligraphic style, and Johannes Gutenberg's 42-line Bible of 1455 used a blackletter which was based on liturgical scripts of the time. However, while roman types - the kind you're reading now - were embraced by most of Europe, and prevalent in England by the 17th century, Germany remained faithful to blackletter until well into the 30s.

Other European nations had jettisoned gothic letterforms in favour of the more 'simple' and 'graceful' characteristics of roman type, as opposed to the dark, angular, 'fussy' nature of gothic – barely legible to contemporary readers. The two styles were set against each other as polar opposites, with the very character of gothic type portrayed as somehow darker in nature. In his 1900 essay, Plain Printing Types, typographic scholar Theodore Lowe DeVinne issued a damning statement, describing blackletter as "a degenerate form of the roman character."

Despite criticism, blackletter became a defining part of the German nation's visual character, with everyday books and newspapers published in gothic type, and children learning blackletter script at school. Some scholars even refused to read German publications set in roman type. However, during WWII blackletter was characterised as the 'German type', and debased and militarized by the Nazis for propaganda. Although the script was forbidden in 1941 – ironically by the Nazis themselves – blackletter remains touched by its cultural associations, unable to entirely shake free of its history.

Today gothic letterforms retain a dark historical resonance, but have also found new homes in visual language, particularly in that of subcultures. Yvonne Schwemer-Scheddin says, "For current music and youth cults, blackletter is a means of proclaiming multiple identities: a collective, a people, a race, a nation, heavy metal, black metal, gothic – all of which celebrate brutality, or in a highly artificial way, the symbolism of death and destruction.'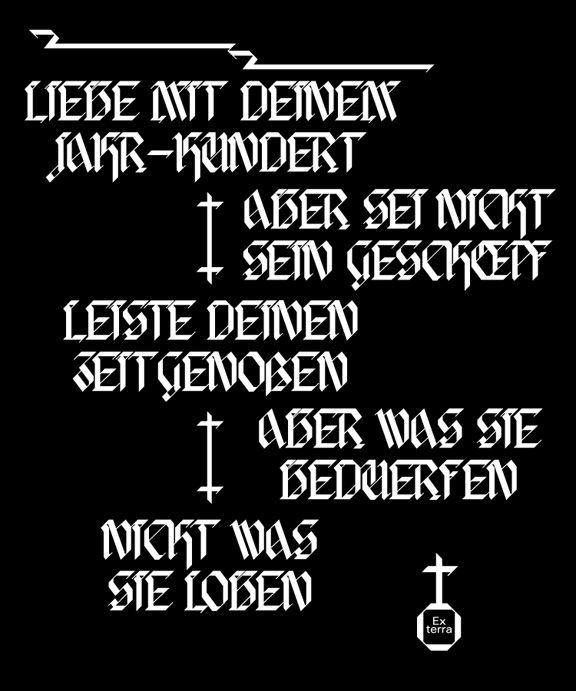 Image: Designer David Rudnick's HyperZeit typeface

Gothic lettering proliferates in the visual language of the music scene, particularly in those pitching themselves as musical minorities. It's also the stereotypical type style associated with horror, which seems to reference the fear and darkness associated with its historical connotations. Type designer Gunnar Vilhjálmsson compares the typeface to dressing up in a leather jacket and ripped jeans, saying, "It's this naïve way of looking scary or getting respect. The blackletter or gothic types have that insult. That's the design programme of these typefaces, these letterforms. They have some kind of mystical dark history even though, if you know anything about it, you would see it's a normal letterform." Some of the gothic power of the style also lies in the striking appearance of the script – diagonal, clearcut, and bringing to mind its original use in bibles and latin texts, which adds to the mysticism. "There's no other style of writing the latin script that is as bold and powerful" says Vilhjálmsson.
You can view examples of Gothic typography from the British Library archive on our Discovering Literature website.