Interview with Jared Fryer - Filmmaker and founder of Cinema Jam
The other day I overheard a passionate conversation between a film director and an actor in the British Library café. (There are spots in the café that amplify sound, so beware if you're trying to break up with someone.)

A significant percentage of our Readers are working on film, TV and radio.  Here filmmaker Jared Fryer tells us about his creative work and how he's using the Business & IP Centre to turn his event Cinema Jam into a business.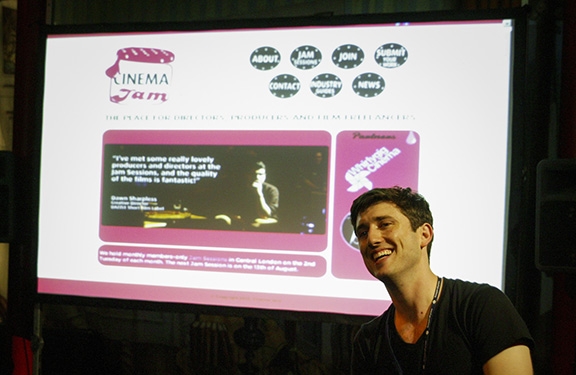 Happy Friday Jared! You founded Cinema Jam – can you tell us more about it? 

Cinema Jam is an exclusive community of film directors, producers and freelancers, based around a monthly event called the Jam Session. We screen some of the best new films (mostly shorts) from around the world to an intimate industry audience and invite experts to share their knowledge with the group.
What made you start it?  
There is often a real sense of camaraderie on a film set. As a group, you put in really long hours under high pressure doing physical work to achieve a common purpose. The intensity of it brings people together, like being in the army I guess, only lower stakes and better food. And then when the film wraps – poof – everyone goes their separate ways. Cinema Jam was originally created for the simple goal of continuing the sense of community that forms on a set, and it has now grown into something much bigger than that.
What kind of feedback do you get from members?
Our members – Jammers – enjoy being part of this community because it offers a chance to find inspiration, keep up to date with new ideas and meet future creative collaborators in a relaxed, non-networky environment. 
Ha! Jammers - I like it! So, you're interested in turning Cinema Jam into a business - how have you used the British Library Business & IP Centre?
The British Library first helped me in developing Cinema Jam when it connected me to my mentor Malcolm Snook through the Institute of Enterprise and Entrepreneurs, who I signed up with at last year's Global Entrepreneurship Week.  I've since done preliminary research on setting up a business at the BIPC and will be meeting with an advisor there for a one-on-one about the best ways to take advantage of the excellent resources the BIPC offers.
What made you want to become a film director? (Dear Readers, if you are involved in making and researching films, we can help you in lots of ways!)

As a child I used to love the movie Home Alone and always wanted to be Macaulay Culkin (minus all the family trauma of course). And then I got into theatre and realised the real fun was in creating the stories myself.
What do you think are the biggest challenges for short film makers at the moment?

There are two problems: getting funding and getting distribution. But these really come down to the same issue, which is that there is not really a market for short films. There are individual cases of people and companies who are passionate about short film and do a brilliant job of matching good shorts with their audiences - like Dawn Sharpless at DAZZLE Short Film Label - but systemically there isn't a sustainable way to pursue a career solely in the short format. This may well change as new online platforms continue to develop, or short films may always just be something people make for their own sake or to build a showreel.

Check out Jared's short film Draw the Curtains, made through the programme Generation Campus at the Moscow Film Festival.