Enter our short film competition on British accents and dialects with IdeasTap
The British Library has one of the largest sound collections in the world, covering the entire range of recorded sound from music, drama and literature, to oral history, accents and dialects and wildlife sounds. 

We are opening up these collections for filmmakers to play with as part of our annual Spring Festival short film competition. 

In partnership with the wonderful people over at IdeasTap, we'll be launching The Sound Edit: British Accents and Dialects short film competition at the London Film Festival on 16 October at the BFI. You are welcome to attend!
Calling filmmakers, photographers and animators!  
We are offering you the exclusive opportunity to write a treatment for a film or multimedia photostory, working with a selection of sounds from the British Library's accents and dialects sound collection – with cash prizes for the best project ideas. 
The VoiceBank was created between November 2010 and April 2011 as a result of the British Library exhibition, Evolving English: One Language, Many Voices. During the exhibition visitors to the gallery were encouraged to make a sound recording to help the Library capture contemporary English voices.
Contributors recorded  a word or expression they felt was special in their variety of English (the 'WordBank') and/or reflections on their relationship with their accent (the 'VoiceBank'). In total 15,000 recordings were made and  the Library is now in the process of cataloguing and making these sounds available for research. 
You will have exclusive access to a selection of 24 downloadable sound recordings. From a Pakistani/Yorkshire accent to saying "code" for "cold" in Nottingham to the word "meekin", defined by a small group of friends as being indecisive, there is a wide variety of accents and words to play with. 
We want you to use the sounds to create a new short film celebrating Britain's rich landscape of regional accents and dialects. Challenge stereotypes, focus on local  identity or our present day-to-day lives. Force us to listen, concentrate and connect meaning to voices. You can use the sounds directly in your film or as inspiration for your narrative. Your film cannot be longer than three minutes. 
A shortlist of 10 IdeasTap members will be awarded £500 each to create their film. The final 10 films or multimedia photostories will go before a panel of industry experts, who will select one overall winner to receive £1,000 and a screening at the British Library Spring Festival.
You can download the sounds and find out more on the IdeasTap website. The deadline is Friday 29 November 2013.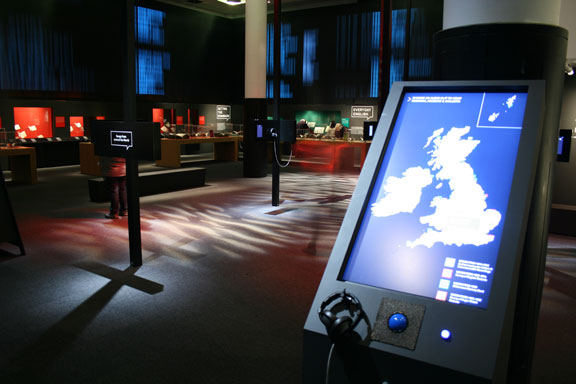 Evolving English: One Language, Many Voices British Library exhibition

Related articles