Written by our guest blogger Geraldine Wharry. She is the creative director of Trend Atelier, a trend forecasting consultancy based in London with clients ranging from WGSN to Samsung. She hosts 'Fashion Forecasting: Trend hunting and gathering', a trend seminar at our Business & IP Centre. You can read some of her previous posts on 'a beginner's guide to fashion trend forecasting' and 'comics-inspired fashion'.
An increasing number of designers are redefining masculinity with creative and radical talent.
Discarding traditional gender distinctions, this year menswear rids itself of preconceived representations and appropriates female fashion codes, paving the way for a contemporary man that confidently embraces his softer side as a sign of strength, not weakness. A seamless relationship between menswear and womenswear sees trend cycles, aesthetics and silhouettes blending into one. Not to be mistaken for notions of androgyny, this is seen as men confidently in touch with their feminine side and vice-versa.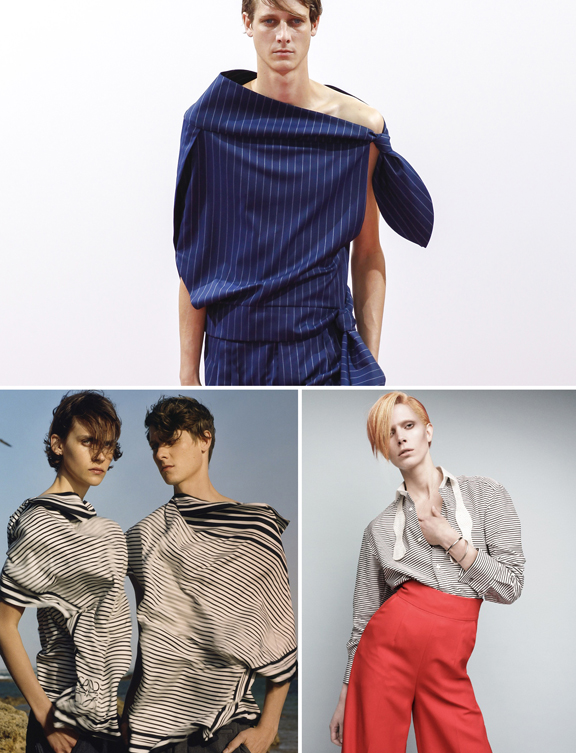 Top: JW Andersen Spring Summer 2015 – Left: Loewe Spring Summer 15 campaign – Right: Iselin Steiro shot by David Sims for Vogue Paris October 2010
This fluid state of affairs fits perfectly with the pervading sense that it has become a challenging sport to define clearly what a single look is inspired by. This point of view resonates with Angelo Vaccarelo's article for the Business of Fashion, stating "In today's hyper-saturated, ultra-fragmented landscape, talking about trends is, frankly, pointless […] everything is happening at once". Indeed we are experiencing a hybrid fashion cycle where tailoring and evening wear are imbued with athletic sports references, classic casuals are redefined with technical fabrications and sneakers have become an Haute-Couture staple. And in due form, gender distinctions are being put into question with silhouettes working perfectly for both men's and women's bodies.
Call it the "Cut & Paste" era of dragging and dropping images and re-curating fashion messages. As a direct result of the globalisation of fashion via the internet, we have reached a level of sameness, particularly in womenswear, whether it be on the streets, in fashion editorials and shop floors from New York to Bangkok, Paris and London. Suzi Menkes pointed this out regarding street fashion and individual style stating "there is no longer a time gap between when a small segment of fashion-conscious people pick up a trend and when it is all over the sidewalks" . Bloggers and street photographers can be credited for expanding the audience and the debate around style in a way that has changed the face of fashion, and that has been truly wonderful to witness. But has this been at the cost of untamed self-expression?
This is where menswear is playing a crucial role in injecting innovation, surprise and awe on the streets, in editorials and on the catwalks. From sophisticated sartorial looks at Pitti Uomo photographed by Tommy Ton for GQ, to traditionally testosterone filled markets such as extreme sports and urban streetwear, masculine silhouettes are updated with feminine codes: floral embellishments, handbags and off the shoulder silhouettes to name a few. Celebrities such as Kanye West and Taeyang from Korea proudly sport leather skirts and jeweled masks, coloured hair and must I dare, makeup.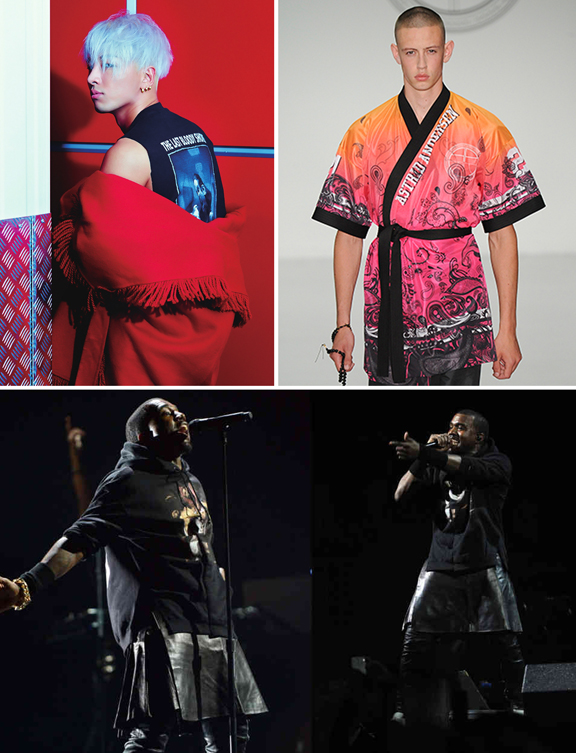 Left: Taeyang for 1st Look Magazine - Right: Astrid Andersen Spring Summer 2015 – Bottom: Kanye West wearing Givenchy Getty Images
Looking back, the idea that men could embrace their feminine side is not new. In the late 18th century we saw the emergence of the "Dandy" - defining a man particularly concerned with his physical appearance. Fast-forward to the seventies and David Bowie brought to us the perfect embodiment of androgynous beauty. In the eighties, Jean Paul Gaultier adorned men with skirts. Then in 1994 the term "metrosexual" was created by Mark Simpson. This is a perfect example of why fashion can be so confusing and why I am often asked "How do you forecast trends and what do you define as new?" Nothing is new, everything is a part of a cycle. The key is in the timing of your forecast and analysis.
So in terms of timing, the blurring of gender codes in Men's fashion has reached its tipping point. What was once considered eccentric is now a mainstream reality and above all commercial success endorsed by the high street and the luxury markets. Two decades after the birth of the 'metrosexual', it is the norm for men to care about and spend money on their personal appearance. So much so I think women could take notes. In the UK alone, men are now outspending women on items such as shoes. So although historically fashion was the domain of women, its culture has moved over into menswear in a big way. As a result, fashion labels have expanded their menswear assortments, with giants such as Hermès, Lanvin, Gucci and Prada introducing men's-only flagships. Other Luxury labels focus on impactful Menswear campaigns targeting a highly sophisticated clientele as seen with Balenciaga's recent ads.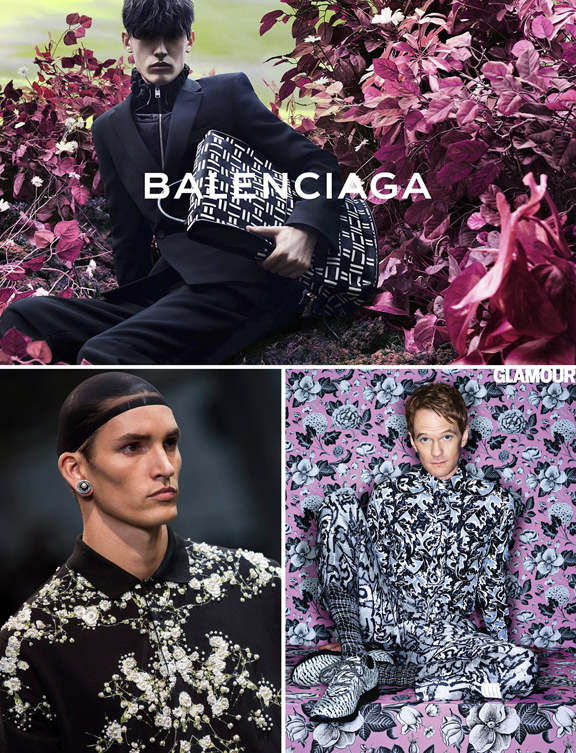 Top: Balenciaga campaign Autumn winter 2014 – Left: Givenchy Spring Summer 2015 Etienne Laurent/European Press photo Agency - Right: Neil Patrick Harris for Glamour
Womenswear is still a driver for innovation in terms of details and surface treatments, but menswear has become a pool for new ideas and fashion paradigms, twisting dogmas and preconceived notions of virility, body image, tailoring and casuals. These codes are being morphed into a 2014 vocabulary by a range of designers from the high-end to promising fashion graduates. The key being the contrast between virility and traditionally perceived female preferences perfectly illustrated by the hot pink military jumpsuit from Louis Vuitton Spring Summer 2015 collection. With pinks and purples being massively on display in the Spring Summer 2015 catwalks, may this be a warning to the faint of heart, there is a lot coming your way.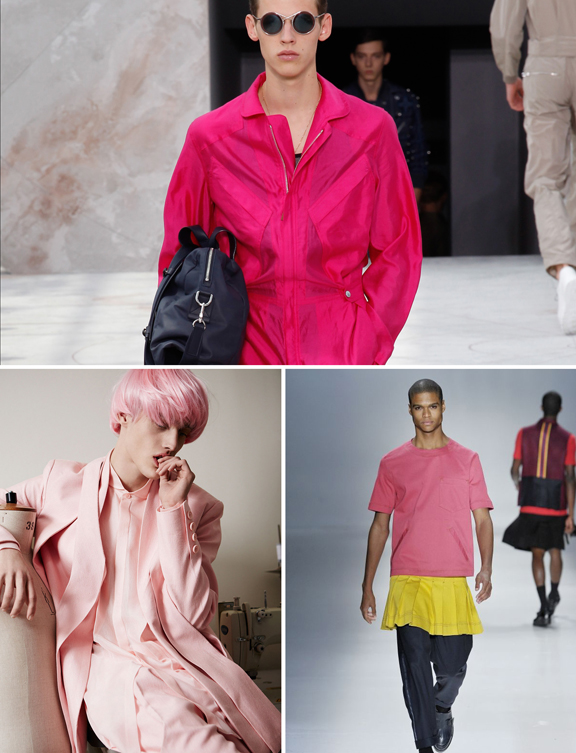 Top: Lous Vuitton Spring Summer 2015 – Left: LCF MA graduate Xiaomeng Yang- Right: Alexandre Herchcovitch Spring Summer 2015