As Christmas time draws near you're bound to have had at least one already but if you're like me you can't stop at one and one leads to another… what am I talking about? The wonderful mince pie!
In our family we compete to produce the best mince pies with my Mum's being the gold standard and even the best shop-bought one is always accompanied with the comment 'they're nice but they're not as good as Mum's'.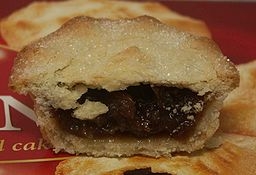 But it's not just my family's home made attempts that are popular, this humble Christmas treat, once outlawed by Oliver Cromwell has been out of favour for decades but is seeing a surge in popularity as the cold weather sends us shopping for home comforts.
Supermarkets, coffee shops and bakers are all reporting huge demands for mince pies with sales up 70% on last year. Since they first appeared at the beginning of December, Costa Coffee have sold 200,000 whilst Tesco has sold 15 million.
Interestingly, sales of the mince pie can indicate when Christmas shopping has really started. According to Andy Simpson, Tesco's mince pie buyer, 'Once the temperature drops in the run up to Christmas demand [for the mince pie] starts in earnest' 'Other areas of our business keep a keen eye on mince pie sales because they know that they are a good Barometer for the start of Christmas shopping'
But this doesn't appear to be unique to this year; last year the high street baker Greggs reported increased sales during the cold spell in the run up to Christmas, selling more than 1 million mince pies per week.
So does the snow remind us of Christmases past and warm spicy aromatic mince pies or are they truly on the increase and becoming more popular?
Either way, the humble mince pie appears to be a barometer of both the advent of Christmas shopping and the falling temperatures around us.
On that note I'd like to wish you all a very Merry Christmas and a peaceful and joyous 2011.