Michelangelo Staffolani writes:
In this difficult economic climate and in the face of pressure from the business lobby, should the government rethink its commitment to the right to flexible working for all, enshrined in the coalition agreement? No, according to Reinventing the Workplace, a Demos' pamphlet out last month. Based on new survey of employees and employers, focus groups and interviews with managers and employees, the pamphlet argues that it would be both economically short-sighted and socially irresponsible to roll back the progress made over the past decade.
I went along to hear its author, Dan Leighton, Head of the Public Interest Programme at the think tank Demos, discuss the findings of the research with the Business Secretary Vince Cable MP and the Patrick Lewis, Partners' Counsellor at John Lewis Partnership, where 76,500 employees own one of the leading retail businesses in the UK and share the profits and benefits created by its success. All three speakers agreed that flexible working is not only good for employees' well being – it is good for business too. But, making it work in practice will require ''an ethos of reciprocity between employees and employers and among employees themselves''.
Illustrating the findings of his research, Leighton pointed to flexible working becoming part of the working lives of most people – a substantial achievement for its advocates. Nine out of ten employers today offer a form of flexible working: from part-time working to job-sharing, flexitime, compressed hours, term-time working, working from home and varying start and finish times.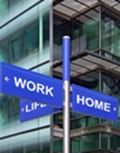 But, there are signs that future extensions may stall. Most employers don't expect their organisation to extend flexible working in the next two years, with small businesses granting less than one in four requests. Employers cite operational pressure or the public facing nature of the work as barriers to flexible working. For employees, the barriers are cultural as well as economic, with men in particular concerned about loss of earnings and the impact flexible working would have on their career promotion.
In his reply Vince Cable stressed the Coalition Government's commitment to flexible working. For employees, flexible working means a better balance between work, family and caring responsibilities. Businesses benefit from it too; it helps them reduce absenteeism, retain staff and widen the talent pool from which they recruit. Figures by the Department for Business, Innovation and Skills suggest that the increased productivity and improved profitability will benefit business by an average of £52.4m per year. And a flexible labour market explains why the country has a lower unemployment rate compared to other countries – even in a downturn.
Reciprocity is the key
In his speech, the Business Secretary signalled the intention of the Government to stimulate a cultural change to make flexible working practices become the norm - when new jobs are designed, for example, and new staff recruited. This will require more than just legislation and the Government is considering non-legislative measures like non-statutory Code of Practice to encourage employers to offer increased flexible working to their employees and to highlight good practice.
Patrick Lewis echoed the Business Secretary, saying it is not possible to legislate for flexible working. Instead reciprocity must be at the heart of it: as employers place increasing demands on their employees' time, asking for more weekend and evening hours for example, they should offer greater flexibility in return. The right to request flexible working must be coupled with mutual responsibility - not just between employer and employees but among employees as well.
Find the Demos report Reinventing the workplace and the Government's Consultation on modern workplaces on the British Library's Management and business studies portal