There has been a lot of publicity about Lindsay Lohan, the actress, voluntarily wearing an ankle bracelet (or anklet). It monitors any consumption of alcohol. Its use is required by many American jurisdictions for those who committed crimes while drunk (such as bad driving or violence) if they want to avoid going to jail. Its use can also be a condition of bail.
The device is called SCRAM® and is manufactured by Alcohol Monitoring Systems, or AMS, a Colorado company. The trade mark stands for "secure continuous remote alcohol monitor". The latest patent application for a refinement of the technology is called Moisture control in a transdermal blood alcohol monitor. Here is its main drawing.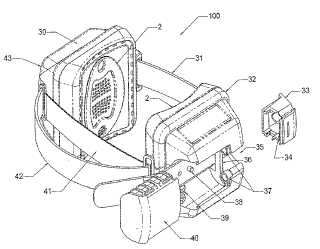 As the title implies, it works by monitoring the alcohol in sweat given off by the wearer. 1% of the alcohol we drink leaves the body through the skin. Every hour a soft jet of air is fired at the skin which vaporises any alcohol and measures the amount. Every night a signal is sent to the company via a modem at the wearer's home. 
It costs $12 a day, a lot less than jail, and the wearer can continue to work and be with his or her family. Attempts to beat the system do not work: an infrared sensor detects if an object is placed beneath it, while a temperature sensor sends an alert if the anklet is removed.
There have been claims of "false positives", where an alcohol reading has been reported when the wearer claims not to have drunk anything. A Florida court case in 2009 involved a receptionist in a hair salon. Jeffrey Hawthorne, the expert witness from AMS, testified that the alert could have been triggered by hairspray. This must have been quite a blow for the company. The link is to a story on the case by a law firm offering to defend people.