Many changes have been introduced from January in the International Patent Classification (IPC), which is printed on most patent specifications and which can be used on databases to identify the novel technical subject matter of inventions. This revision is meant to be used on any patent specifications printed from January 2010 onwards.
The revised classification can be found online together with a tab for a catchword index and a tab for Compilation, which highlights the revised wording. New sub classes, often moved from other classes, are shown there in italics. Older versions of the IPC can be seen by clicking open the "Version" box at top left on that page.
A quick glance suggests that the following are the main classes affected by adding numerous sub classes.
B62M, rider propulsion of wheeled vehicles
B65H, handling thin or filamentary material
C12N, micro-organisms or enzymes [especially stem cells in this revision]
F16H, gearing
G01Q, scanning probe techniques or apparatus [an entirely new class]
The IPC is quite complicated, including how to use it best. It originated in the 1960s when new editions would appear every five years or so. If a subject changed its class in a new edition, the former class had to be searched for as well as the new class.
Fortunately the Espacenet database was revised some years ago so that a vast number of patents were reclassified (and will continue to be reclassified when necessary). This goes back mainly to 1920 and affects most European countries plus the USA and the "World" patent system.
A more detailed version of the IPC called ECLA goes back to about 1911 for France, 1909 for Britain, 1888 for Switzerland and 1877 for Germany. This means that the database can be very useful for those searching the history of old technologies. The ECLA variant of IPC can be found as Classification Search on Espacenet. The ECLA additions can be identified as they always start with a letter.
For example, A63F7/06 is the IPC for games that simulate outdoor ball games. ECLA adds ten subdivisions, such as A63F7/06T for tennis. Clicking on the little hollow box next to that sub class and then on Copy transfers it to a search mask. Running that search gives 59 hits, going back to 1922. The drawing below is from one of these, Tennis novelty.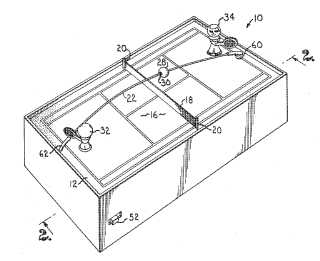 ECLA classes are, generally, only applied to patent documents from European countries, the USA and the PCT (the "World" patent system), and it can take months or longer for it to be assigned to a newly published patent document.
This limits its usefulness in current awareness, but it is a valuable tool for checking the prior art, as often very relevant material is quickly found, perhaps by using keywords as well. However, there may be other relevant material not found, published in for example the Far East.