3D television is creating a lot of interest. There is an interesting article in the Daily Telegraph about a British family trying it out, raising a number of issues. 
The basic idea, of course, is to create a 3D or stereoscopic effect by using special glasses. Obviously the glasses are not enough. The technology is beyond me, but for those interested there is a detailed breakdown in the ECLA patent classification. You use it by selecting the area of interest by clicking the little white box next to the class, and then clicking Copy above the details of the classes. It is then transferred to a search page.
ECLA is limited to the PCT (the "World Patent"), the USA, and European countries, but most inventions in the field are likely to be published in one of those systems, despite largely coming from Korea or Japan. More significant is the fact that there is often a delay in the patents being classified by ECLA, which can be a year on some occasions.
An example of a patent specification in the field is Samsung's Method and apparatus for displaying stereoscopic image, whose main drawing is shown below.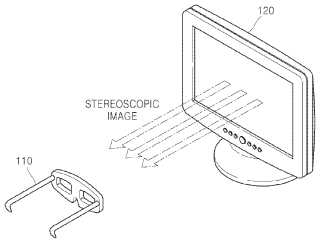 This is a list of the 313 patent specifications published in H04N13, stereoscopic television, since January 2009 in the PCT system.