Our new exhibition on recent British inventions, due to start on the 6 September, has a couple which have been considered controversial by some.
Speedo is a well-known swimwear company, based in Nottingham. It was inventions by them such as Close fitting article of clothing with highly tensioned fit which enabled swimmers to break numerous records at the Olympics at Beijing in 2008. Below is one of the drawings, showing that it covers most of the body.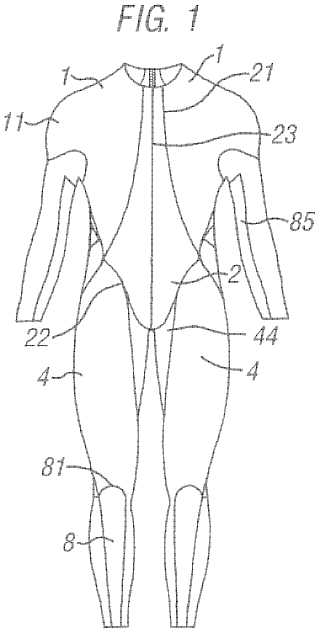 The innovations were meant to reduce drag for the swimmers, partly by altering the body shape.  Launched in January 2008, the LZR Racer® was a dramatic success for top swimmers, even though it took them about half an hour to get into it. Those without rhe new swimsuit were rarely in the medals. The difference in speed was estimated at 4%: a big difference.
Opponents described the swimsuit as "technological doping", and from the start of 2010 the suits have been banned by FINA, the world swimming body. Non-textile fabrics are now illegal, and women's suits have to end at the shoulder straps and above the knee, while men must return to wearing trunks. The new records will (oddly) stand as valid.
The "Mosquito" also features in our Inventing the 21st Century exhibition. An electronic device gives off a high-pitched sound which only young people can hear. The idea, to discourage youths from hanging around shop doorways, is explained in Howard Stapleton's High frequency sound teenager dispersal device. He found it very effective when he experimented on his own children.
Many local councils and police forces welcomed it, but opponents used terms such as "demonizing" and "low-level sonic weapon" to describe it. A campaign to fight it, Buzz Off, was launched, and was supported by Liberty and the Children's Commissioner for England among others. The product continues to be available from Compound Security Systems. That site includes a clip of Alan Johnson, the then Home Secretary, describing the product as "very helpful" in Parliament.
Meanwhile, something unexpected happened. Welsh teenagers started using the sound as a ring tone on their mobile phones, so that they could be alerted to messages in classrooms without the teachers noticing. In response, Stapleton launched his own Mosquito Tone® -- available by text message at £3 a time.
Of course, controversial inventions are not new. In 1959 a patent for Improvements in apparatus for controlling riots for applied for by Britain's War Department. It is better known as CS Gas. In the same year a Dutch racing driver applied for what was published in Britain as A device for determining rates of speed. His name was Maurits Gatsonides, and his "Gatso" is familiar as the much-loathed speed camera.