I recently posted on our Inventing the 21st Century exhibition, which opens on the 6 September in London. This is about those that involve green issues.
Of the fifteen products that were chosen, some reflect green concerns.
One is Tanya Ewing's Utility monitoring system, Ewgeco®. It uses a "traffic light" system to indicate if usage of power, gas or water is higher than normal usage. It can work with both conventional and "smart" meters, which the inventor thinks are hard for the consumer to understand.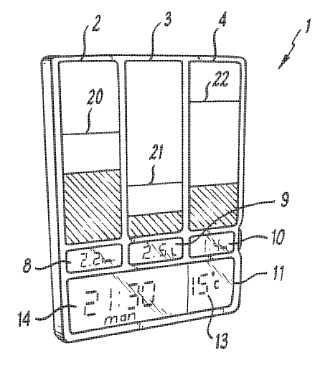 The drawing above is from the patent document and is, as they almost always are, in black and white. A more sophisticated colour version can be seen at the company website but the principle is the same.
That product is already available to buy. That is not yet true for Searaser®. This is is a Hydro column, a device that uses a piston to generate power from waves both as as the wave lifts it and again when it drops it. The power generated drives water up to a reservoir on high ground. When energy is needed, the water runs down through a turbine. This overcomes the problem of the sun not shining, the wind not blowing and so on. Here is the patent document's main drawing, showing it secured to the seafloor.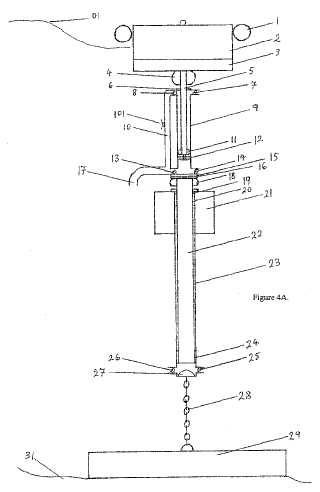 Another invention that we chose was an electric bicycle. Cycling has become increasingly popular, but can be tiring. Richard Thorpe's Gocycle®, by Karbon Kinetics Limited incorporates a number of improvements such as the Bicycle with motorised single leg front fork, illustrated below.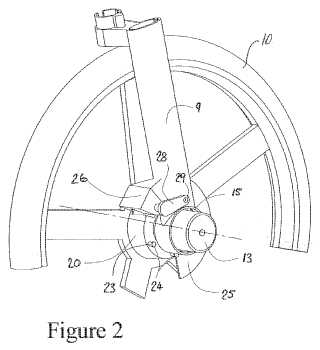 The result is a smart-looking and light electric bicycle. It can cover 30 km at a top speed of 15 miles per hour [32 kph) -- chosen as that is the top speed in the UK for unlicensed electric vehicles. Gocycle® is now available for sale.
We're enthusiastic about the exhibition and its accompanying events programme. Only five weeks to go !