Andrew Harsley of Grantham, Lincolnshire appeared on the Dragons' Den TV show in August 2008 with his Rapstrap® cable tie invention.
He thought of the basic idea as a teenager when putting out the rubbish. "When I first came up with the idea, I could not believe someone else hadn't thought of it. There's a lot of waste with the nylon cable tie. The Rapstrap does the same job but is four times more effective in cost and wastage."
The strap is looped round the object to be tied and the hooks lock together to form the tie. Having originally asked for £150,000 in return for 15% of the equity, he gave away 50% to James Caan and Duncan Bannatyne, two of the dragons. Rapstrap soon won a £36 million order, and the invention has been called one of the success stories of Dragons' Den.
A "World" patent application was published in February 2010 as Moulded tie strips. Granting of patent rights is awaited. Here is the main drawing.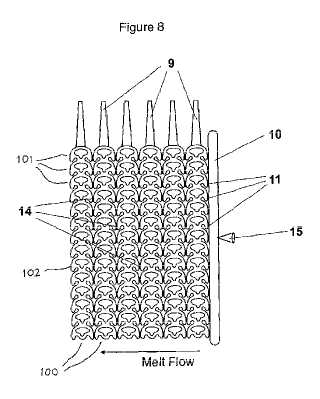 However there was a problem.
In 1994 Harsley had founded Millepede Cable Ties, which applied for a patent (with himself as inventor) called Tie strips. The link, and a representative drawing given below, are for the granted European patent.

"I was amazed when Harsley, who had previously founded the Millepede company, forgot to mention Millepede's existence on the programme," said John Butterworth, managing director of Millepede. "Then afterwards all the parties showed a lack of interest in talking to Millepede about our prior patent. I hope this official review will now change that situation." Harsley had left Millepede some years before.
In November 2008 Millepede asked Britain's Intellectual Property Office for an "opinion" on whether or not the technology of the Rapstrap® infringed that European patent. Opinion 26/08 said that they thought that it infringed Claims 1 and 5. These five claims can be found on pages 5-6 of the link to it.
An "Opinion" is just that -- it is not legally binding, but rather provides useful information for those who, perhaps, contemplate legal action. Only litigation in the courts would settle the matter.
Later on, Harsley himself asked in January 2010 for an Opinion on whether or not his invention infringed the European patent. Opinion 2/10 said that they thought it infringed Claim 1. The first claim is always the broadest, most general claim.
The odd thing about all this is that the search report for the later Rapstrap company patent application, which lists similar patent documents, does not mention the earlier Millepede patent at all.
It does however list in its search report several patent documents thought to be relevant, marked as "X" (done before) or "Y" (obvious improvements) for several of the claims. It is up to individual patent offices to consider whether or not to grant protection to the Rapstrap invention. Attempts can be made to persuade the patent offices that patents should not be granted (or severely limiting the protection). 
Meanwhile both Rapstrap and Millepede are offering their products for sale.