I've just come back from a workshop called "Reinvention of Technologies for Sustainability". It was held at the Dana Centre in South Kensington.
About twenty of us listened to talks about what was involved in reinventing forgotten or dormant technologies. There was also a good deal of discussion. My interests were of course in how the older patents could provide a way into forgotten techniques that, perhaps, did not get commercialised because the costs were then too high, or the right materials or processes were not available at the time. Perhaps the business climate (or financing) wasn't right.
Such research wouldn't be easy, and I liked the idea of interviewing elderly experts in specific fields to ask them what old processes etc. they remembered that didn't work very well at the time (and, ideally, what the problem was). That would provide a starting point with the patents.
Oakdene Hollins hosted the event and will be issuing a report in November based on their research into the topic. They have a page about it.
Trevor Dean, the Technical Director of Zelfo Technology, which is involved in using cellulose (which is from plants) for sustainable technologies, gave an interesting talk showing how important cellulose was in various materials such as viscose.
Someone (I neglected to note who) mentioned an example of how an old idea could lead to an innovation. In 2001, it seems, someone noticed a 1960s French patent and adapted the idea to create Uni-Screw®.
This must have been Lawrence Brooks, of Sheffield, whose Uni-Screw website has a lot of information. The idea is Multi-tiered-recess screws, in an hexagonal shape, as shown in the drawing below. He has several patents on related technology.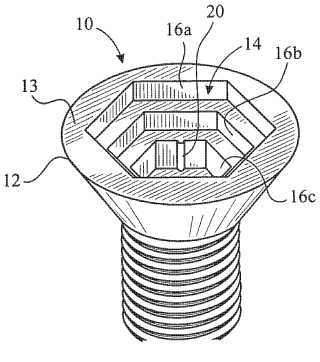 I believe French patent 1585454, which dates from 1968, is the one as it does show such a concept.
There is also a detailed study of the innovation by Brian Rooks called A new design of screw head. He calls the inventor Tim Brooks but I am satisfied it is the same invention. The new screw prevents "cam-out" if over-torques are applied; requires only one driver for different sized screws; and enables easy alignment.  
Now, what I don't know is how Mr Brooks came across the French patent...