Last night I was at a gathering in London by SA Vortex, to launch a revolutionary new hand dryer.
I gave a brief presentation about what our Business & IP Centre does for innovators and business people -- and mentioned in passing our very competitive £150 patent searches -- and we heard about, and saw demonstrated, a product that I can genuinely say impressed me. Here I am, lecturing to the audience.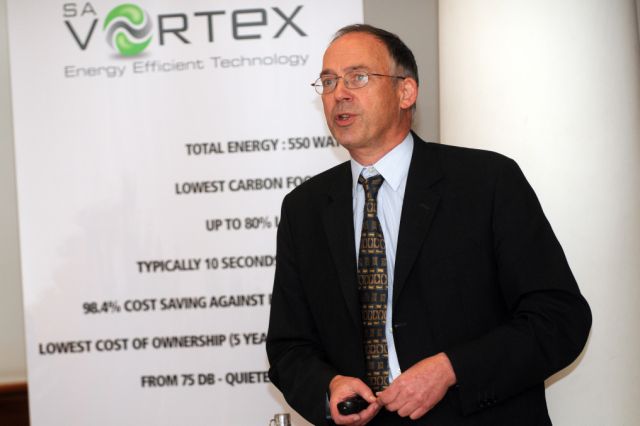 The hand dryer dries hands in ten seconds yet uses up to 80% less power than the "next best hand dryer" uses. It's cheaper, too. It does cost more than the basic hand driers (it's £550) but those, with brush motors, release carbon particles and break down more easily, and cost a lot more to run.
The emphasis is on sustainability, with low carbon emissions due to the low power consumption. That also means it's less prone to breakdowns (the brushless motors are more robust, too). Increasingly companies will be billed for high emissions, and an amazing amount of power can be used in corporate washrooms. Working at 700 watts, 50 dries cost one penny in power costs. The payback period is less than 2 years.
So how does it work ? The basic idea is that the heat that is blown downwards at the hands bounces back to be recovered and recycled back at the hands. Hence the vortex. The inventors are Peter Williams and Syed Ahmed, who some will remember from his appearance on The Apprentice. He is also the (enthusiastic) CEO of the company.
Apparatus for drying a person's hands is one of their patents, with the main drawings shown below.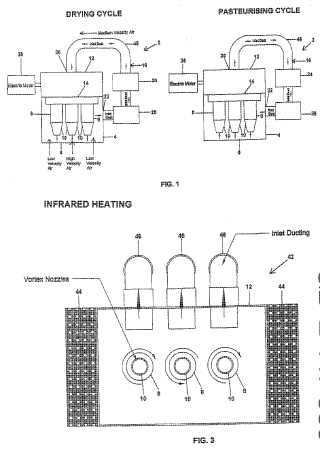 I met Syed in 2006 when he came to the British Library and we were filmed together for a documentary about the idea. We did a patent search for him and helped with suggestions and provided market research. I'm pleased to see that such a useful product (that looks good, too) has evolved out of those early beginnings.   
More information is available at the company website, while Syed tells his story in this video.