There has suddenly been a lot of advertising for The Schrijver System®, a method that claims to deal with the problems of damp in houses.
The company website states that the system was thought of by Dutchman Henk Schrijver in 1983, and that "Schrijver received in 1988 a Benelux patent and in 2001 an European one".
I'm aware that the Benelux countries (The Netherlands, Belgium and Luxembourg) have collaborated in setting up a Benelux Design and a Benelux Trademark but there is not, in fact, a Benelux Patent. I checked and found that the website mentioned the 2001 patent by number, EP829587, the Improved device to abstract moisture from a wall or similar. Here is the main drawing.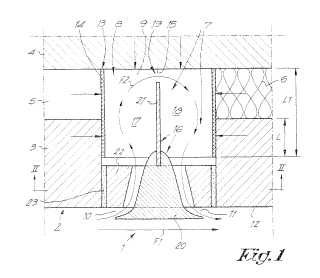 It is by Hendrikus Schrijver of Belgium, for Schrijver Systeem NV. In it he mentions improvements to Dutch patent 183148, which was indeed granted protection in 1988.
That patent, which is of course in Dutch, is by the same company. The later patent explains that the Dutch patent put forward a technique which did not work in cavity walls. The summary, referring to the drawing above, states that it is an
"Improved device to abstract moisture from a wall or similar, consisting of air guide means (7) which can be applied in a hole (8) in a wall (2) and which define an air guide channel (9) between two openings (10-11), which extend in different directions outside the wall (2), whereby the air that flows through the air guide channel (9), can carry off moisture originating from the wall (2), characterized in that the device (1) is provided with means (13) which form a cover between the air guide channel (9) and a cavity (5), possibly present in the wall (2) or similar."
The company claims great success in the technique, and there are certainly many testimonials on their website.