I was watching the BBC news this morning and there was a feature on a hybrid airship which could behave like a helicopter, and which was by a British company called Hybrid Air Vehicles. Apparently the US military has signed a contract for $300 million to buy some. It has helium rather than hydrogen and therefore will not "explode", said the presenter. Actually, hydrogen burns and does not explode.
I decided to look at their patents, and spent a pleasant fifteen minutes trying to trace them. There are no patents listed on Espacenet under the name of Hybrid Air Vehicles. There is a website for the company, which names its product, Skycat, and says that its technology is "heavily patent protected worldwide".
I checked the British patent filings on the UK IPO official website by searching the site for "hybrid air vehicle". The UK lists the titles of newly filed patents under the name of the applicant, so that unlike most countries you don't have to wait for publication. You only have a title, however. I found that a Hugh Michael Bonnin Stewart had been filing for patents from 2006 with that wording in the title.
I turned to Espacenet and entered "Hybrid air vehicle" and found three hits. Two were by Stewart, the third by someone called Roger Jeffrey Munk, who I disregarded at the time. These were the only two indexed by Espacenet for Stewart, and both gave himself as the applicant (normally it is a company name).
One was the Payload module/ passenger cabin for a hybrid air vehicle. Its main drawing is given below, with the left-hand drawing showing an unusual shape as seen from the front or rear.

 
The other patent document is the Air-cushion landing system for a hybrid air vehicle which is mounted on the underside of the payload module or passenger cabin.
I looked on the Internet for mentions of other engineers associated with the company, and came across, depending on the web site, Roger Monk or Munk. I remembered Roger Jeffrey Munk from the list of three hits and looked for patent documents by him. Espacenet lists five patents by him, all on the general subject, with four different companies named as applicants.
One of these is the Lighter-than-air aircraft with air cushion landing gear means, with its main drawing shown below. Its similarity to the Stewart drawing above helps suggest the two are working together.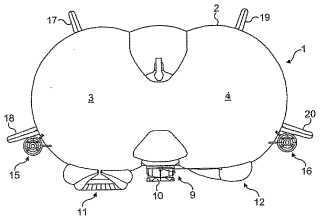 Airships are ideal for surveillance as they can hover and can stay in the sky for a long time (up to five days, says the website), and in this case use 70% less fuel per tonne kilometre than conventional aircraft.
I would still have found the patents if the term "hybrid air vehicle" had not been used in their titles but it would have taken longer. Anyone interested in the company's technology will need to make a very careful search, even then often being uncertain what they own. That is because although presumably the patent rights have been assigned by Munk and Stewart to Hybrid Air Vehicles, these are not necessarily recorded on the official UK Patents Status Enquiry database, as that is not required. I see I am not the only person to be confused: a blog called Airshipworld has a number of postings including one called The Skycat puzzle continues.
The Companies House site shows that World Airships changed its name in 2001 to World Skycat, while Hybrid Air Vehicles changed its name in 2007 from earlier names. I checked for Skycat as a trade mark as it is used by Hybrid Air Vehicles but it is not registered as a current trade mark.
I wish the company luck in selling what sounds like a very interesting idea. Test flights are already happening near Cardington, the historic centre for British airships, with its massive sheds.