Numerous patent specifications have been published in the name of Google covering search engines. An early important one was of course their Node ranking in a linked database, filed in 1997 and by Lawrence Page. This is the basis of their PageRank® algorithm (note the pun on his name) for identifying and sorting the results of searches.
Wikpedia has an interesting article on that algorithm, which states that Stanford University, the applicant on the patent, exclusively licenses it to Google. Their payment was 1.8 million shares in the company, it says, which were sold in 2005 for $336 million.
Many of their patents are in the field of filtering and personalisation of search engine results. This is a list of 46 patent documents published by Google through the "World" system on that topic, as G06F17/30W1F is the ECLA class for that concept.
They include Identifying inadequate search content, the main drawing of which is given below.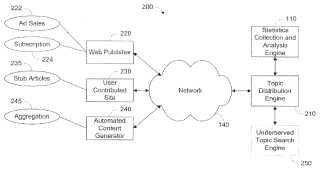 The patent application (since granted in the USA) talks of a statistics search engine, which takes queries made by users; statistics analysis, which divides the queries into topics and provides statistics; the comparator, which identifies topics based on a comparison of the topic statistics and the query statistics; and topic distribution, which notifies users of identified topics.
The idea, apparently, is that if demand for a topic through a search engine exceeds what is actually available on the Web, web publishers are notified and can think about providing that content.