A number of patent specifications have been published for cars that use wind turbines to generate power as part of their propulsion.
There is a patent classification that covers this, but it is rather broader than that topic. B60L8/00 covers, within the idea of vehicles, "electric propulsion with power supply from force of nature, e.g. sun, wind". I'm not clear why there couldn't have been a breakdown into land vehicles, boats, and aerial vehicles, subdivided as powered by the sun or by the wind. Anything that didn't quite fit would go in the main heading.
Anyway... I was thinking of cars that use wind turbines. By clicking on the little box next to the class and then Copy, a search appears in a search mask on the free Espacenet database. Here is a list of 16 patent documents on the subject, all by private inventors, by adding words into the title search box.
The general idea, I think, behind them is that the faster you go the more power is generated. The problem is that the weight of the wind turbine itself consumes a lot of power, and what happens if you are in a traffic jam, generating little or no power. To be fair to the inventors most see the concept as a supplement to other propulsion means.
One example is Cannon-shaped wind turbines for electric vehicles, by Fabio Agostini of New York state, with its rather striking main drawing shown below.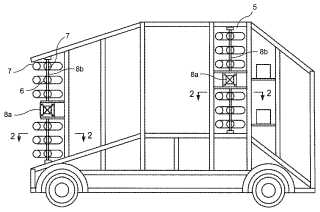 Another is Vehicle having wind turbine to produce electricity, by Allen Park of London, UK. Here is the main drawing.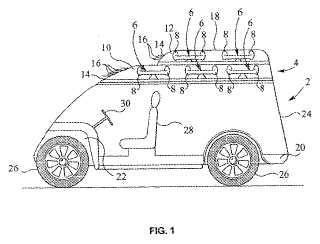 Some of these inventions may not even work, but the criteria for a patent do not include whether or not it works, so long as it is new.