Gus Lopez' Toy design patents site links to 51 US design patents for toys related to the "Star Wars" films. for the look. Design patents is the American term for what the British call registered designs, where look rather than function is what is new.
The applicants seem to have been Lucasfilm (with George Lucas mentioned as inventor) or 20th Century Fox.
One in fact is a utility patent, Multi-track multi-vehicle roller coaster with special effects, from 2005, a ride based on the films.
Another enthusiast has listed Star Trek design patents, which are all, I think, by Paramount Pictures. An example is "Toy spaceship", shown in miniature below.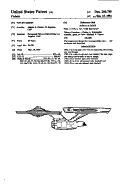 All this shows the marketing effort that was made to merchandise the vehciles, costumes, etc. shown in the films. Typically a manufacturer would be licensed to pay royalties to the film company for each unit sold of the toy.
The British Library currently has a free exhibition on science fiction, Out of this world: science fiction but not as you know it. It closes on the 25 September, and is a must for all fans of sci-fi.