The subject of the London Olympics and intellectual property is a complicated one and this posting merely mentions some interesting materials. Legal advice should always be used when thinking of using the Olympic name and symbols: if you don't have explicit permission, don't use the names or symbols.
The UK has the London Olympic Games and Paralympic Games Act (2006) which sets out harsh penalties for anyone falsely implying a connection with the Olympics.
I like the 39 Olympic logos from 1924 to 2012 page on the Web Designer Depot site, which shows the evolution of design.
Many of these were registered as trade marks or designs. An interesting piece of retro is the 1948 London Olympics poster, which has recently been applied for as a European Trade Mark by the International Olympic Committee as E10575041. It is shown below.
32 trade mark registrations have been made by the London Organising Committee of the Olympic Games and Paralympic Games through the UK system, such as no. 2551176, where a vast number of goods and services are spelt out, as registrations are for specific goods and services within any of 45 Nice Classification classes. Below is Mandeville, who with Weblock is the official mascot of the Games, as given in the registration -- "this is front" and "this is front/side" are obviously not meant to be part of the trade mark but in theory that is what they are.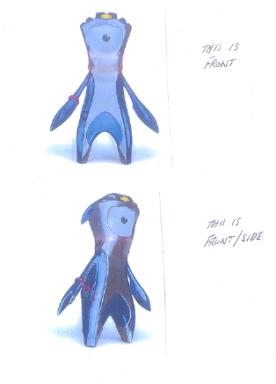 There are also registered designs, and the OHIM database for EU-wide protection lists 88 designs by the London Organising Committee.
These include typefaces, to my surprise; the appearance of web pages; and numerous variations such as by colour of the main logo of the Games, such as this one below.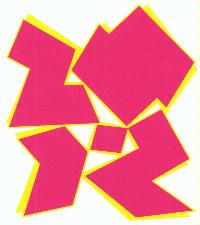 There is an official page called Using the brand about correct usage etc.