The Library hosted its first ever Science Discovery Day on Saturday 1 March. Rebecca Withers and Allan Sudlow participated. It was a day that was exhilarating, inspiring and exhausting in equal measure, and reached a brand new audience of budding scientists!
We were nervous. Our first Beautiful Science event aimed at families with children and accessible to deaf people. We knew we were in the capable hands of the BL Learning Team, who had organised the day with the wonderful Frank Barnes School for Deaf Children and Camden Family Learning. But it was a free event, it was sunny outside and we had no idea if anyone would turn up….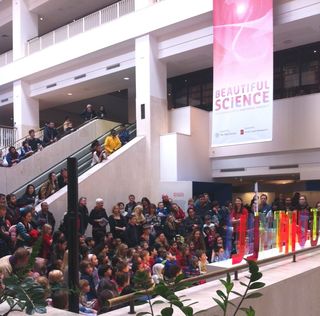 We needn't have worried – over 300 families, with around 1000 people in all – enjoyed a fantastic range of activities. From photo booths, poster painting and amazing bubble shows (our friends from the Science Museum), to animal skulls (thanks to the Grant Museum), music for the deaf, and sign language storytelling. A huge cheer to all the organisations who helped deliver such a varied and exciting day!
The Science Team hosted a show and tell on some of the stories behind the Beautiful Science exhibition, including an opportunity for the budding young scientists to determine the source of a cholera outbreak in Victorian London.

 Science Team Stickers and Storytelling, with Esther, our fantastic BSL interpreter.
Families contributed their own data visualisation on their favourite bits of the exhibition through the medium of sticker science! And we received some wonderfully colourful feedback from the younger critics…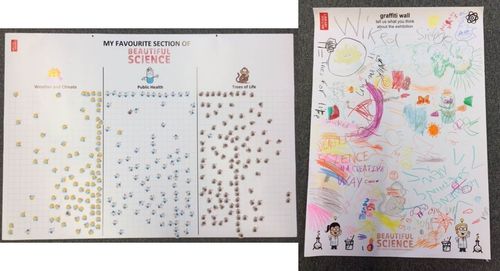 Voting on Beautiful Science themes and colourful feedback!
The day was a great success and we hope that the families that attended enjoyed themselves and learnt something new.
Beautiful Science is open everyday during library hours until 26 May 2014. It is a free exhibition, and after our experiences on Saturday we can guarantee it is an exhibition that appeals to all!