Ian Cooke, Lead Curator in International Studies and Politics at the British Library - See more at: http://britishlibrary.typepad.co.uk/.services/blog/6a00d8341c464853ef017615d54774970c/search?filter.q=ian+cooke&search.x=0&search.y=0#sthash.3aHy7gaH.dpuf
Ian Cooke, Lead Curator in International Studies and Politics at the British Library, writes:
The controversy at the start of this year which followed Michael Gove's comments on interpretations of the First World War reminds us that there is still much to be uncovered and re-assessed in our understanding of the War. 2014 will see the start of commemorative events across Europe, of which the British Library's exhibition Enduring War will be part. A common feature of many of these projects – perhaps spurred by an understanding that, as we approach the centenary, so the War is passing completely from lived experience – is an attempt to understand the private experience of the War, and to collect and recapture personal and family memories.
Last week, two related online resources were launched which bring together current research on the War with access to a vast number of digitised objects. Europeana 1914- 1918 provides access to more than 400,000 digitised objects, and 660 hours of film, from galleries, libraries, archives and museums across Europe. An important part of the project had been a call for members of the public to bring personal objects and stories for recording in the Europeana database. This aspect of the project provides access to items previously unseen and also reveals the stories that we have been telling about the War within our families, adding a more personal dimension to the way that the War has been understood and remembered.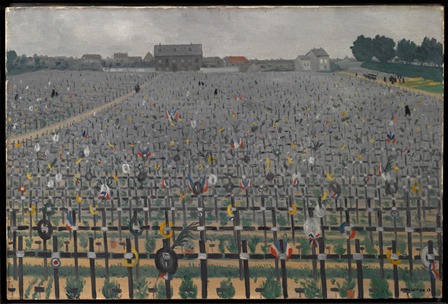 Above: Military cemetery at Châlons-sur-Marne, June 1917 by Felix Vallotton [copyright public domain]
The British Library's World War One website draws on the collections in Europeana 1914- 1918, and contains more than 50 articles written by historians, curators and others on a range of themes, including: civilian experience; life as a soldier; propaganda; race and empire; and representation and memory. Dr Annika Mombauer gives a timely overview of the history of the debate on the origins of the War, and how attempts to ascribe or absolve from blame have shifted with changing geopolitical conditions. The website contains over 500 images of objects, and resources for teachers in secondary schools. A useful feature of the website is the information about copyright for each of the images featured, making re-use of materials easier where permitted.
Elsewhere, digitisation of resources is being used to expand and link the knowledge that we have about the conduct of the war, and how this was experienced. The National Archives has digitised over 300,000 pages of War Diaries, and aims to have digitised a further 1 million pages by the end of the year. It is using crowdsourcing, calling on members of the public to tag names, places, activities and other information mentioned on the diaries. This information will be shared with the Imperial War Museum's Lives of the First World War project. This project will link data between digital records such as census returns, service records and diaries to create digital life histories for more than 8 million of people across Britain and the Commonwealth.
These, and other, projects show that the centenary of the First World War will be marked by projects which seek to increase access to, and understanding of, a huge range of objects and documents that were produced by governments, commercial publishers, and, often, private individuals during the war. The creation of new digital objects offers potential for new discoveries and new links to be made between different sources.