Hume's Stray Feathers
Allan Octavian Hume (1829-1912), British administrator and one of the founders of the Indian National Congress, recorded an extraordinary story of resilience, the ability of people to cope with disruptions.
Hume was a respected ornithologist.  In January 1875 he boarded an old gunboat fitted for the Indian Marine Survey to explore the Laccadive archipelago (Lakshadweep), India's only coral reefs with atoll formation. Hume's detailed records of the animals, (in particular birds), geography and people constituted the first research expedition to the islands and submerged reefs. 
Hume published his observations in 'Stray Feathers', the journal he set up, authored and edited.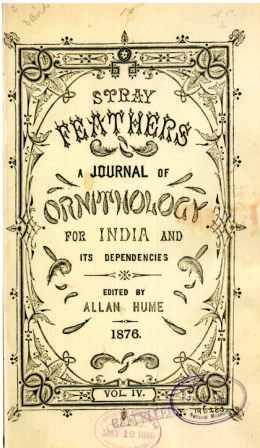 Cover page of 'Stray Feathers' Vol. IV., 1876.
http://www.biodiversitylibrary.org/item/95042#page/7/mode/1up
 Hume's story is a four-stage 'negotiation' between the Indian government and islanders of Laccadive about the control of arboreal rats that were nibbling away coconut palms and the islanders' income.
• The government suggested cats to kill the rats but the islanders already had cats who were content with their regular food of fish.
• The government sent snakes that were quickly prevented from colonizing the islands.
• Mongooses were shipped but they too were unwelcome visitors, preferring easily available chickens to the difficult-to-reach rats.
• Owls were delivered but they were considered a bad omen and forwarded to an uninhabited island.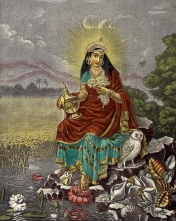 Lakshmi the Goddess of fortune with her owl carrier (Add.Or.5267). Chromolithograph originally published/produced in Calcutta Art Studio fl. 1890's.
 © The British Library Board Images Online
 In defence of the government administrators, owls had a positive connotation in Bengal. The white (barn) owl was regarded as royal for being the vehicle of Lakshmi, the Goddess of Wealth.
Hume's wry humour shows he thought that pest control in this case was best left to the islanders' wisdom of how to cope with disruption:
'What ails the Sirkar?' said the elders 'Is it not enough that they deluge us with snakes, that they flood us with long-tailed ground rats (mongooses) that kill our chickens? And now they want to afflict us with these devil birds, whose cries keep us all awake at night, and make the children scream, and the old women foretell death and ruin! Certainly we are the Sirkars slaves – what ever they order we obey, but – we won't have the devil birds.'
The disruption was being caused by the external predators intended as benevolent pest control, not the rats. As a naturalist, Hume proposed that while natural science works around general principles, for instance what preys on rats, local environmental knowledge is also important as it tells what is compatible with local people's values and beliefs. As an administrator, Hume pointed out the link between knowledge and power; that both collective ability and freedom to make decisions were required to negotiate the boundaries of ecological, cultural, economic and political identity. Hume's story may be one of the first articulations of the role of knowledge and power in resilience.
Andrea Déri
PhD Candidate, Birkbeck College, University of London
BL Cataloguer
In consultation with Nalini Persad, Curator, South Indian Studies, Asian and African Studies
Further reading:
Hume, A.O., c1880. 'The Laccadive and the West Coast' in Stray Feathers (BL, P/V 2044)
Hume, A.O., 1876. 'The Laccadive and the West Coast' in Stray Feathers. Journal of ornithology for India and its dependencies, 4, pp.433-4. (BL, PP.2041) Also online.