Children in the corridors of power
It is 1825.  Imagine you are walking down Leadenhall Street in the City of London.  Before you stands the magnificent East India House.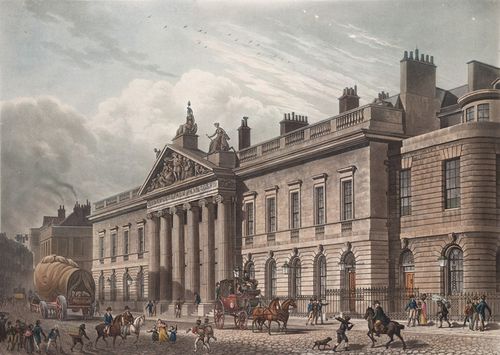 East India House - Joseph C. Stadler (1817)

Images Online
You go through the main entrance. This is the bustling headquarters of the East India Company, a hub of commercial and imperial power. Civil, military and naval personnel mingle as they go about their business.  There is a noisy auction taking place in the sale room, with bidders keen to buy tea, textiles, spices or drugs shipped by the Company from Asia. But if you listen very carefully you might hear the sound of a baby crying somewhere in the building and the voices of children playing. 
The Company's housekeeper Elizabeth Hall Tarrant and one of her assistants Lucy Imeson lived in East India House with their families.  Elizabeth Tarrant (née Daycock) was appointed in 1814 with a yearly salary of £100, and Lucy Imeson (née Clayton)  joined her in 1817 on wages of £50 a year.  Both women were provided with accommodation, coals, candles, tea, bread and butter which were valued at another £50 a year.
The Imeson family lived in two rooms.  George Imeson joined the Company warehouses as a labourer in March 1818.  He was later promoted to commodore (foreman).  Four children were born while the couple were living at East India House: Lucy in November 1820 (she died in March 1822); William Edwin in September 1818; George in May 1822; and Lucy Elizabeth in July 1825. 
George Imeson died in August 1830 aged only 38. Lucy received £10 10s as death benefit from the Company labourers' welfare fund.  She stayed on as assistant housekeeper until June 1834 when the Court of Directors decided to stop providing breakfasts in the tea rooms and to reduce the housekeeper's establishment from four women to two.  Lucy retired at Midsummer on an annual pension of £50.
In October 1840 Lucy Imeson petitioned the Company for assistance, stating that she was a widow with her family partly dependent on her, the eldest being at present without a situation. She asked the Company to give her an advance of £20 from her pension to be repaid in quarterly instalments of £5 to enable her to set her son up in business and allow him to try to support himself.  Her request was refused.
Our next story will be about the Tarrant family.
Margaret Makepeace
Lead Curator, East India Company Records 

Further reading:
IOR/B/167 pp. 401-402
IOR/L/AG/30/5
IOR/L/F/1/53 no.146
IOR/L/F/2/53 no. 16 of October 1840