10 February 2010
Celebrating snow: Canada in the winter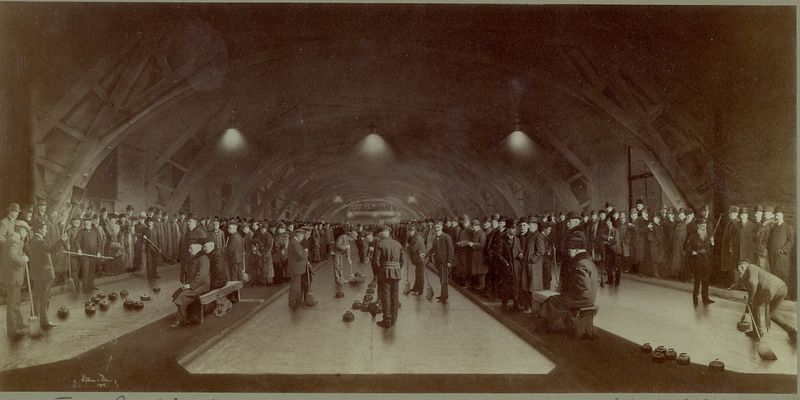 Wm. Notman & Son, "Montreal Curling group" (1905)
Friday sees the start of the 21st Winter Olympics, jointly hosted by British Columbia and the four Host Nations of the Lil'wat, Musqueam, Squamish and Tsleil-Waututh. This celebration of all things sporting and wintry made me think of the Canadian relationship to winter in general and prompted this post.
Winter in most of Canada has always been a hard, unforgiving time of year, but the peoples who live there have often treated it as something to be made the best of, celebrated, and even enjoyed.  Among the First Nations, winter encouraged the development of Snowshoeing (fun fact: not an Olympic sport, despite lobbying) and Tobogganing as tools and sports and these have endured to become part of Canadian identity and culture. In cities too sport has flourished, not least pastimes such as ice hockey and curling. The British Library has an interesting collection regarding Canadian sports, including a 1904 piece by David Hanbury entitled Sport and Travel in the Northland of Canada (BL Shelfmark: 010470.ee.5). Although, you might not find many Olympic sports in there.
Of course when you talk about Canada in winter a name that comes to mind is that of William Notman, whose representations of the Canadian winter speak to generations of Canadians. Some lovely examples are in Portrait of a Period: A Selection of Notman Photographs, McGill University Press; BL Shelfmark L.R.412.d.8. Notman's images illustrate a nation defined by its weather, and his lens often focussed on the grand spectacle of the season and the celebrations that went with it. The British Library is lucky to hold a limited number of images from the Notman and Son studio (run by his son, William McFarlane Notman), including the particularly striking image above, of the Montreal Caledonian Curling Club, and the one below. The images comprise part of our Canadian Colonial Copyright Collection, which was deposited between 1895 and 1924.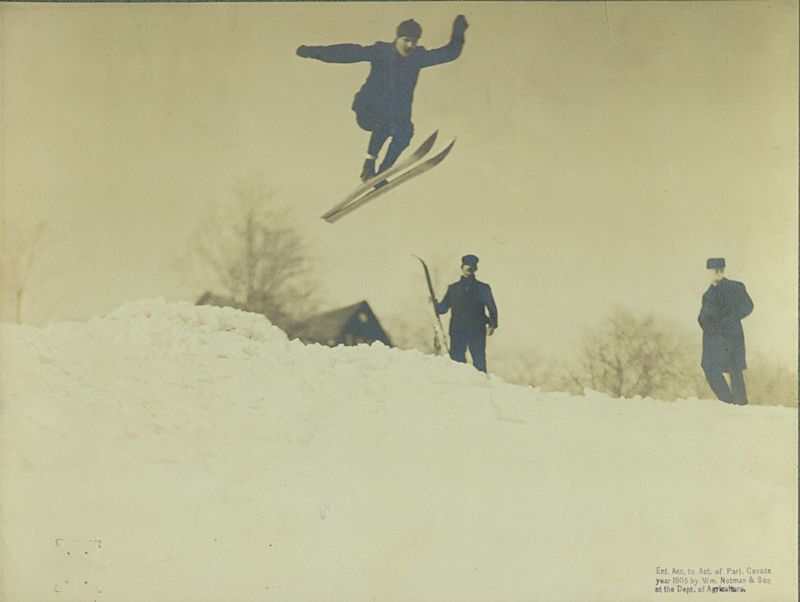 Wm. Notman & Son, "Ski Jumping" (1905)
The images contrast the joy and freedom of individualised sports and the grandeur and potential of large, organised events, while also illustrating the importance of sport within Canadian culture as a whole and the place of sport as a celebration of winter. In short they drive home to me the Canadian preoccupation with enjoying all that winter can throw at you – although hopefully this year's Games won't have to count a dearth of snow among the season's problems.
I should close by noting one thing you may have already perceived; in these images (and most other sports images in the Colonial Copyright Collection here) there are not many people depicted who are not white men. So, it is good to see through this year's Games that this is a situation that continues to change in sport.

[P.J.H.]