Through the stereoscope: the past in three dimensions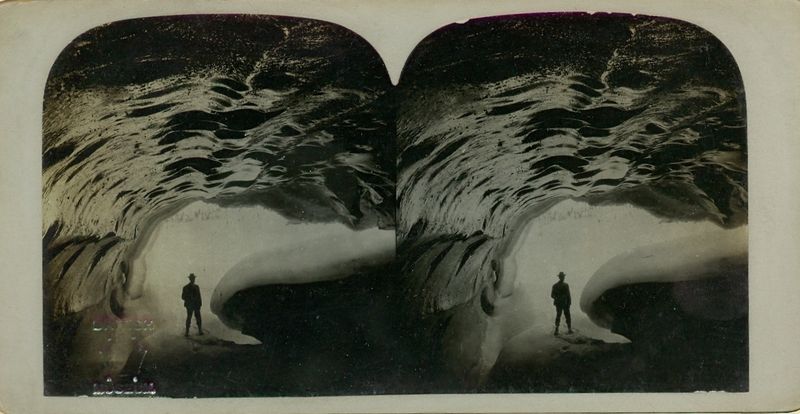 Byron Harmon, 'Ice cave, Illecillewaet Glacier,' British Columbia, 1908
Last friday I had another opportunity to browse around our Points of View exhibition as part of a tour for Royal Holloway MA students. During the tour the exhibition's display of stereoscopic photographs and the support the Library has received from a certain Brian May were mentioned, and I remembered a small assortment of stereoscopic images that we have from British Columbia.
In case you don't know, stereoscopic images are early three dimensional pictures produced through a camera. The process works by using two separate photographic images (like the above) and a calibrated viewer to encourage the brain to visualise a three dimensional image. It is actually a surprisingly simple technique, unlike the processes gone through to create contemporary three dimensional cinema.
One of the really interesting things about stereoscopic images is that they now provide an opportunity to view the past in 3-D. Fancy feeling like you are standing inside the glaciers of the Canadian Rockies at the turn of the twentieth century? Look no further than the above. Byron Harmon, who produced this view, was a prolific photographer of the British Columbian landscape and the Library has a significant store of his stereoscopic images. Today, these images are a unique view of an area that has seen significant changes  to its landscape through climate change in the twentieth century.
So, in many ways, while we increasingly think of 3-D as a modern technology to be found in the cinema it is worth noting that over a hundred years ago you could have experienced it in a relative's front room as part of a holiday slide show. If you fancy having a look for yourself I'd suggest getting to St. Pancras sooner rather than later, Points of View closes on the 7th March.

[P.J.H.]