American Studies in Norwich
As Carole mentioned in her latest post, Team Americas are on the road.  The 55th British Association for American Studies conference is underway at the University of East Anglia, and we have just returned to the dorms after a reception and talk at the Civic Centre at The Forum.  It offered a chance to chat with some other delegates, admire the Lord Mayor of Norwich's chain (and listen to her tales of being a war baby), and a remarkable lecture by Professor Wai-Chee Dimock (Yale) entitled 'Who's Irish? Henry James, Colm Toibin, James Joyce, Gish Jen'.  The Forum was rather open plan, so the professor gamely spoke on as Pizza Express eaters were treated to an exploration of how identities are made, and often as not made through language.  Here's a photo: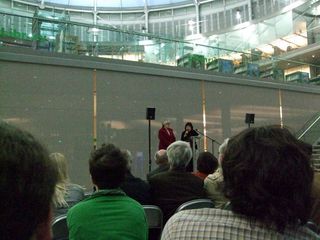 The Forum also has some very impressive projection equipment.  This was used to show off a some images produced as part of UEA's School of American Studies outreach project - a collection of schoolchildren's responses to and thoughts on the USA.  We also received a copy of their work in a book in the conference pack.  Another photo: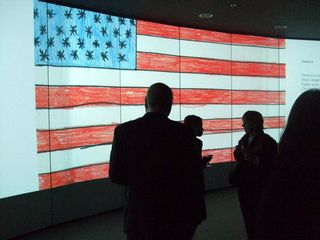 I am now trying to find something for supper.  More papers tomorrow...
[M.S.]