The Arctic perspective (or Future of the Polar Regions, part 2)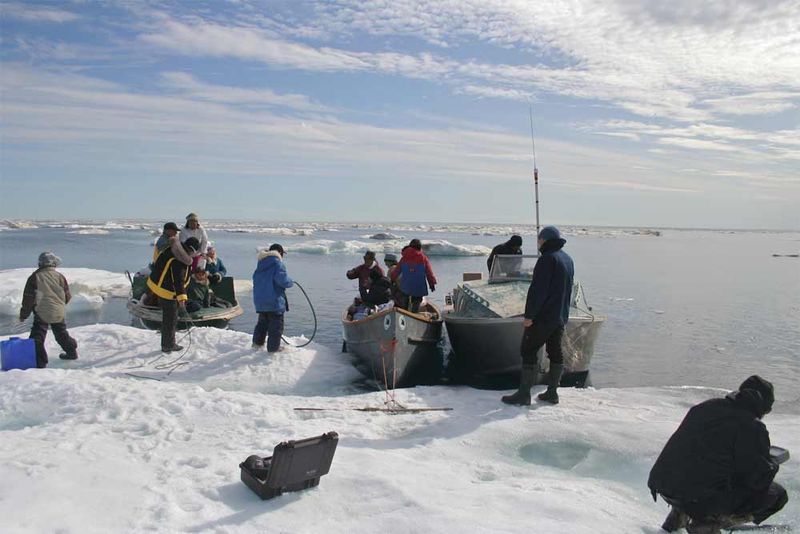 The Arctic Perspective Initiative team with Igloolik members, August 2009 (Courtesy of The Arts Catalyst, © Matthew Biederman)

You may remember a previous post suggesting that the future of the Polar regions could see these areas becoming less 'out there' and more part of the fabric of our increasingly globalised world. On the 20th May I was at a panel discussion entitled 'Contemporary Nomadism: Autonomy and Technology in the North' (hosted at Canada House and run by the Arts Catalyst), and I was fortunate to witness another stage in this inexorable drawing of spaces together through technology.
The discussants were from The Arctic Perspective Initiative and the main event was a live Skype video call from two project members who were currently out on the land in Nunavut. Being 'on the land' implicitly means an absence of mains power, server access, wireless broadband and the other necessities required for internet access but yet the two panellists, one of whom was Zacharias Kunuk, the director of Atanarjuat, joined the room for a lengthy discussion. This was made possible by the project's emphasis on facilitating the use of open and free media, communication and sensing technologies to increase connectivity between the Arctic and the rest of the globe. The discussion covered many contemporary cultural, environmental and geopolitical challenges facing the Arctic and you felt that the web-link facilitating the discussion and the possibilities it provided could intensify these debates in coming years.
As with maps, tall ships and radio previously, these interactions of people and technology increasingly draw the Arctic and those who live there into the global everyday, with myriad potential effects. An exhibition documenting the work of The Arctic Perspective Initiative is on at Canada House until the end of September and provides a forum to illustrate their work and an opportunity to think through some of the outcomes. Also, our Arctic collections are always here.
[P. J. H.]