13 July 2010
Cricket in the Collections
Having recently had reason to go through the Library's cricket holdings for the Caribbean and Canada it seemed appropriate to post some notes about them here. Cricket is not only a dynamic and globally popular sport, but it also has an important place in nineteenth and twentieth century history.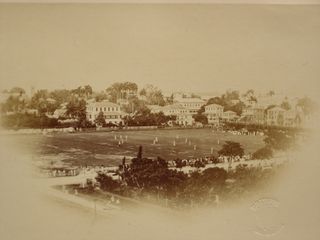 (Cricketers on the George Town Parade Ground, 1866, An Illustrated History of British Guiana, 10470.i.3) 
Cricket in the Caribbean has long had a political element and the sport has been played by some of the key thinkers and actors in Caribbean politics in the twentieth century and provided opportunities for them to travel and share their ideas with a wide audience. This is illustrated not least by Learie Constantine and C. L. R. James who spent long periods of time in Lancashire and London as a result of their cricket connections. Both James's and Constantine's writings on cricket and racial politics are available in the Library, with works such as Beyond a Boundary (James, 1963 [Shelfmark: 7926.n.25]), Cricket and I (Constantine, 1933 [Shelfmark:2271.d.15]) and Colour Bar (Constantine, 1954 [Shelfmark: W49/1369 DSC]) available, along with many works by other notable authors. Furthermore, these materials are well supported by the newspaper collections and Sound Archive which contain articles and recordings by and relating to both men.
Our collections also illustrate the changing face of cricket over at least the last hundred and fifty years. The publication Cricket Across the Sea; or, the Wanderings and Matches of the Gentlemen of Canada, 1887 (Toronto: 1887 [Shelfmark: 07926.b.9]) is an account of the Canadian Men's Cricket successful tour of England in 1887. Given the success outlined in this work and the prevalence of publications such as The Canadian Cricketer's Guide (St. Catharine's: 1858) one can see that Canadian cricket has fallen on harder times, as has American cricket which is also noted in the collection. And, as you can see from, The American Cricket Annual for 1890 (New York: 1891 [Shelfmark: P. P. 2523. fd]), I'm not getting confused with baseball.
Given the continued pace of change within cricket in the twenty-first century, we can learn a lot from these collections as they illustrate the ebb and flow as well as the significance of the sport during the preceding two centuries.
[P. J. H.]