What you won't be reading on your Kindle, part 2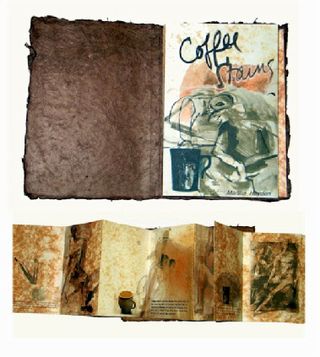 Some time ago I wrote a blog about some work I was doing to assist our Conservation team with a survey on modern materials. Although the survey has long been completed, I've continued to make a note of any interesting or 'different' materials used by book artists that I come across so that I can have them up my sleeve for any future surveys. A recent visit from Maddy of Central Booking left me with several new acquisitions, one of which definitely falls into this category, offering a novel variation on the coffee table book –  a book made of coffee. 
Martha Hayden's accordion fold book Coffee Stains (2009) not only provides information on the 'health benefits' of coffee drinking (something I was very pleased to read!), but is also made from coffee products. By apparently dipping her brush in a cup of coffee by accident, Martha discovered that it makes an excellent wash and started to experiment using various different strengths of coffee. But it's not just the illustrations that are made from coffee. The book is 'constructed of paper made from a 100% mixture of post-consumer paper and coffee content,' and the paper is coloured by using brewed coffee and coffee skins from El Salvador. The distributor of the paper – Costa Rica Natural Paper, is 'committed to the idea of environmental and sustainable development' and donates a percentage of its paper sales to support research in this area. The cover of the book is made from Lokta paper from Nepal, which comes from a bush rather than a tree, is acid free, environmentally friendly and provides an income for the villagers in remote areas of the Himalayas. So, a book about coffee, made of coffee, and which is eco-friendly. Our conservators will love it.
[C.H.]