01 March 2011
The Photogenic Prince: Edward in Canada, 1919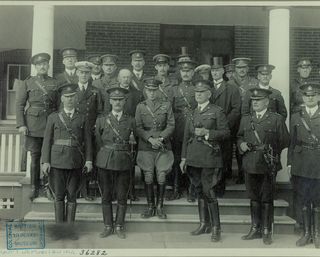 'H.R.H. Prince of Wales at R.N.W.M.P. Barracks, Regina' by G. W. Brinkworth, 1919. Shelfmark: HS 85/10

While the success of The King's Speech at the Oscars took few by surprise, it provided me with the impetus to dig out some materials from our Canadian collections. As with The Queen before it, The King's Speech seems set to be one of those films which, for many, defines the popular sense of its characters for some time. In short, it immortalises Bertie as the dependable and stoic hero, while Edward fills the role of dashing, and ultimately feckless, rogue.
As with most films this overlooks the depth and nuance present in the biography of any historical figure. This has been noted in a number of articles and blogs, with especial emphasis on how the film juggles some of the central historical relationships. That being the case, I have always found these films and their narratives an intriguing invite to find out more so I had a dig around our collections.
Prince Edward was a well travelled and popular member of the Royal family. Indeed his extensive tour of the empire and sartorial reputation lead to him being one of the most photographed public figures of the inter-war period. This is illustrated by the many photos of Edward contained in the Library's Colonial Copyright Collection of Canadian photographs, the diversity of which hint at the many aspects of the personality of the man while also illustrating the complexity of a modern monarch's life. The Library also provides a wide range of interesting supplementary materials, such as Edward's own memoirs, entitled A King's Story (1951, New York: Putnam's Sons. Shelfmark 10807.ff.41), Ziegler's , King Edward VIII: the official biography (1990, London: Collins. Shelfmark: YH.1990.b.422) and the edited volume of correspondence, Wallis and Edward: letters, 1931–1937 (1986, London: Weidenfield & Nicolson. Shelfmark: YC.1987.b.1797).
This list scratches the surface and says nothing of the wide range of materials held regarding Wallace Windsor (née Warfield), King George VI, the Queen consort Elizabeth and many other individuals involved in the story of The King's Speech but it does show just how much there is to understand about this complex cast of characters.
[P.J.H.]