27 July 2012
The Siege of Atlanta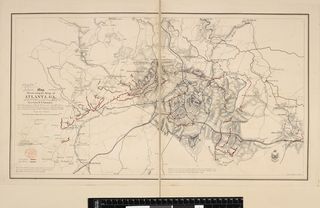 This work (Map illustrating the Siege of Atlanta, by the U.S. Forces under command of Maj. Gen. W. T. Sherman) [Maps 72580.(4)], identified by British Library, is free of known copyright restrictions.
A slightly tenuous link for this week's Civil War map, which is a plan of the Siege of Atlanta in 1864.  It's a few days after the 148th anniversary of the start of the campaign, the eventual success of which proved to be a great morale boost for the north, and helped to seal Lincoln's 1864 electoral success.  We wouldn't like to suggest that London is under seige (indeed, your correspondent is doing his best to welcome the world to the UK during the opening ceremony this evening), but simply note that Atlanta, like London, is an Olympic city.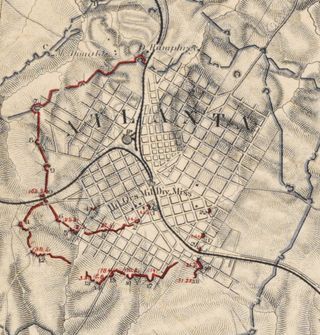 Maps 72580.(4) (detail).  Gone with the Wind comments welcome...
And on the Olympic theme, don't miss the British Library's official (and free) Olympex: Collecting the Olympic Games exhibition or the brilliant Writing Britain exhibition, which is part of the simultaneous Cultural Olympiad, if you are in town during the next few weeks.  And if you are in front of a TV this evening, keep an eye out for a curator rather out of his comfort zone after the Parade of the Athletes.
[M.J.S.]