06 March 2013
Picturing Canada: mapping a collection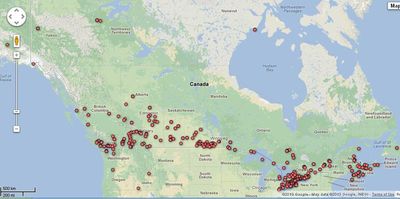 An early visualisation of the collection contents (click for more detail)

The works contained in this post are free of known copyright restrictions.
Those of you who enjoyed Team Americas' cat-themed post a few weeks ago will know that we are currently working to digitise a collection of Canadian photographs held at the Library. Since the digitisation is almost done Andrew and I are beginning to think about ways of displaying the collection and allowing access to the images, beyond hosting them on the British Library Digitised Manuscripts site and Wikimedia Commons.
Since I spent all my university life in geography departments one possibility popped straight into my mind - we could try and map the collection. The picture above is an illustration of the first attempt at this and hopefully I can soon share an interactive version with you. Why a picture at this stage? Well, truth be told, the first results contain a few bugs and I didn't want to give the wrong impression with an early version.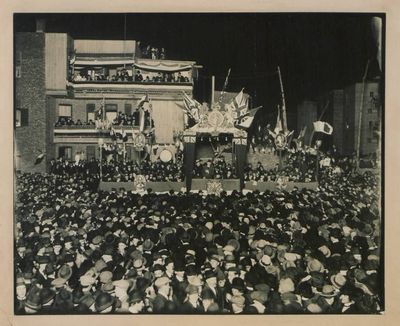 Sir Wilfrid Laurier speaking in Montreal, 27th Sept 1916. British Library shelfmark: HS85/10
That said this first try suggests that mapping would work as a way of opening access and providing users with an easy overview of the collection. It also begins to give a sense of the pattern and density of photographic deposits (important given this is a copyright collection), although this is skewed by the fact that the current map will only add one item to each location.


A pageant from the celebration of Quebec's Tercentenary, 1908. British Library shelfmark: HS85/10
There are a number of ways we could begin to use this as a tool to ask questions of the collection but it is important to note too that such a visualisation will be a good way for people to find the photographs that are of personal interest to them. In short, a map is by far the easiest way to see how many photos of Vancouver, Moose Jaw or Dawson the collection holds.
The above photographs are some examples of photographs that users will eventually be able to find via the map. I should note that the location data in any first version will be generic, pinning photographs to 'Vancouver, BC' as oppose to, 'Stanley Park Drive, Vancouver, BC'. It occurs to me that this level of refinement is something users could help to provide in the future, but one step at a time for now.
The next stage of the project, as Andrew mentioned a few weeks ago, is to tidy up the photographs we have already digitised and we are hosting an editing day on the 18th March. If the above map whets your appetite and you want to come along details can be found here.
[PJH]