15 January 2014
A British Visit by an Acquaintance of Solomon Northup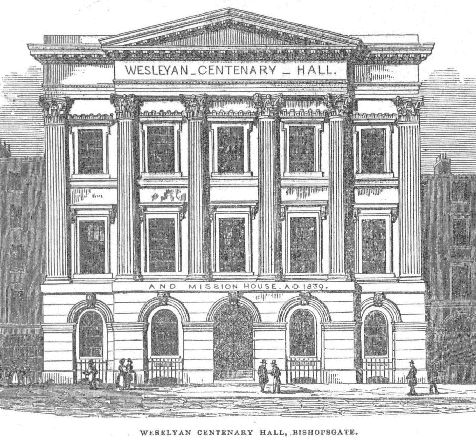 Wesleyan Centenary Hall, image: public domain (from VictorianLondon.org)

A guest post by David Fiske, co-author Solomon Northup: The Complete Story of the Author of Twelve Years a Slave:
Though there was a hint that Solomon Northup was interested in visiting England (a newspaper item in the spring of 1854 suggested he might, most likely joining the trip made by his friend Henry B. Northup), there is no actual evidence that he ever did.
Solomon clearly didn't accompany Henry, the attorney who organized the rescue mission that brought Solomon out of enslavement in Louisiana. At the time of Henry's trip, newspapers in Syracuse, New York, reported that Solomon was in that city, preparing and presenting a play based on his book Twelve Years a Slave.
Perhaps Solomon crossed the ocean later on: there's a period in the late 1850s when no historical trace of him can be found. However, no documentation of a visit to England has surfaced.
It was not unusual for former American slaves to make lecture tours in the UK. One who did, Theodore ('Tabbs') Gross was an acquaintance of Solomon's – letters written years later say that Solomon Northup and Tabbs Gross worked together on the Underground Railroad, an informal American network that ferried escaped slaves to safety in Canada.
In the summer of 1860, Rev. Gross (for he was a preacher), arrived in England with another man, Lewis Smith, with the goal of raising funds to allow Smith to purchase the freedom of some of his still-enslaved children.
On 28 September 1860, Rev. Gross spoke at Wesleyan Centenary Hall in London. The presence in London of the men was also noted in a Quaker publication, the British Friend (2nd Month, 1861). Gross was still in England in March 1861, because a staff member of the American Embassy, Benjamin Moran, recorded in his journal that he'd visited the Embassy seeking a pass in order to visit France.
Rev. Gross probably returned to the USA late that spring, perhaps wanting to be in his home country after the eruption of the American Civil War. Also the man who recalled Gross and Northup's work on the Underground Railroad said that the two were engaged in that activity in 1861 and 1862.
[David Fiske]
[N.B., Holdings of the British Friend can be located via SUNCAT]