Coming up: Lines in the Ice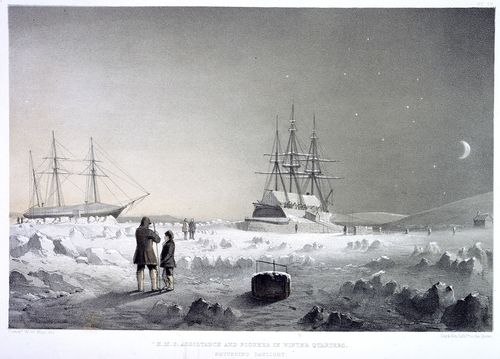 Above: 'HMS Assistance and Pioneer in Winter Quarters' [Shelfmark: 1781.a.23]
For the last few months Tom Harper (from the Library's Maps team) and I have been working away on a new exhibition for this winter, 'Lines in the Ice: Seeking the Northwest Passage'. It's been an exciting process and we've come across some fascinating material, so we're pleased to start talking about it.
The exhibition looks at why Europeans have been drawn to explore the Arctic, focussing specifically on the charting of the Northwest Passage, and questions the significance of this search in the making of the modern world. I won't give away much about what you will see but suffice it to say there will be maps, books, photographs and more on display.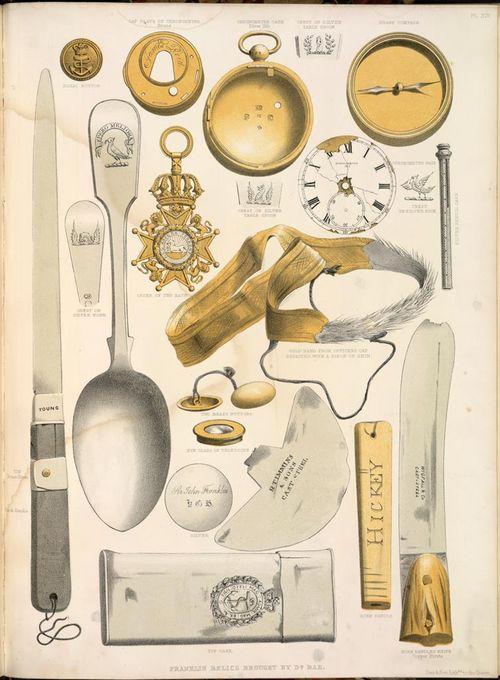 Above: artefacts from Franklin's lost expedition, found during the long search for his crew and ships [Shelfmark: 1781.a.6]
We're in the process now of working through an initial selection of material, having spent the last few months accumulating a surprisingly lengthy long list. The sad part is know there is so much great material that won't go on display but at least we have the option of blogging about it! 'Lines in the Ice' will open on November 14th in the Library's Folio Society Gallery, make sure you come along and keep an eye here and on the BL Maps blog for some 'Curator's Cut' extras.
[PJH]