08 May 2014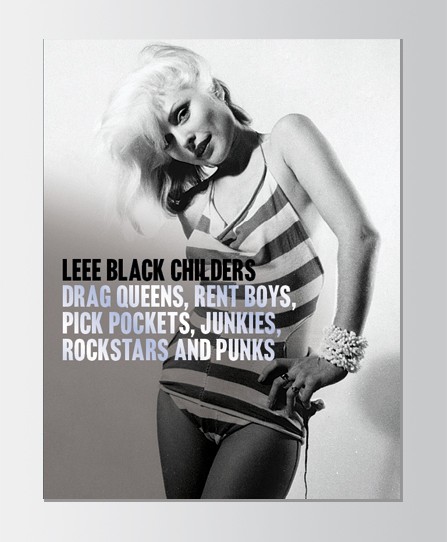 Leee Black Childers, Drag Queens, Rent Boys, Pick Pockets, Junkies, Rockstars and Punks, published by The Vinyl Factory/The Society Club
Archives are strange, and one of the strangest things about them is how lively they can be. On 6 April this year, the photographer Leee Black Childers died in Los Angeles at the age of sixty-nine. He was a legendary figure, a charming Southern gay man who captured the exuberant, seedy glamour of New York in the Sixties and Seventies, photographing drag queens, pop stars, rent boys, junkies, punks and miscellaneous downtown divas.
I first came across Childers by way of the Hall-Carpenter archive, a wide-ranging and insufficiently celebrated work of oral history about gay experience in the UK, which began in 1985 and is now housed at the British Library. Not all the participants were as talented or as well-connected as Leee, but they were meticulously interviewed and as such the archive forms a luminous portrait of queer life across a turbulent century. Still, Childers's long, roaming interview, recorded in 1990, must be among the most electrifying, providing six hours of gripping, moving and frequently scandalous listening.
Leee was born in 1945 in Jefferson County, Kentucky. At the beginning of his tape, he describes the grandmother who raised him, a puritanical figure who claimed she only had sex five times, once for each of her children, and who on seeing a woman wearing trousers remarked: 'Well look at that! They'll be gluing a doodle-whacker on next.' Leee, who began spelling his name with the eccentric extra 'e' as a small boy, fled this narrow-minded world in his early twenties, drifting to San Francisco, where he was involved in the civil rights movement and the hippy scene.
After a spell living with the Black Panthers, he moved to New York, where he began photographing drag queens and soon found himself drawn into the maelstrom of Warhol's Factory. Childers is refreshingly matter-of-fact about his old friend Andy, who he claims became an film maker in order to persuade attractive people to take their clothes off (On the subject of the 1964 Brillo Box sculpture, he comments wryly: 'It was a Brillo box. That's all it was. It was just a Brillo box.') Later, he worked as a tour manager for the likes of David Bowie and Iggy Pop, taking iconic photographs of punk and New Wave figures, among them Patti Smith, Lou Reed, and Debbie Harry in a stripy bathing suit.
He lived at the heart of what was by any standards an extraordinarily flamboyant scene, and it makes for a disorientating experience to sit in the calm surrounds of Humanities 2 in the British Library, listening to Leee describe the goings on – at the Anvil or in the backroom of Max's Kansas City, where the waiters used to complain that every time they went to get fresh napkins they'd find people having sex in the linen closet. Childers is a witty, affectionate guide to this lost period, with its curious mix of innocence and wildness.
He was always drawn to drag queens and they are the subjects of some of his finest work. He was present at the Stonewall riots, an uprising that kick-started the modern-day gay rights movement. The riots began in the early hours of 28 June 1969 in New York, after police raided the Stonewall Inn. 'They were lining the drag queens up behind the bar,' Leee explains. 'This is something I think people should realise. It comes down to drag. All the gay people were walking out meekly, when the drag queens behind the bar started throwing bottles. It was the drag queens who started that riot and it was the drag queens who led it... I wouldn't have missed it for anything.'
So what happened to this electric, electrifying world? In a word, Aids. Leee, who was living in London at the time of the interview, provides an intimate, agonising history of the Aids crisis as it obliterated his community, killing friends and acquaintances and destroying an entire cultural milieu. At one point, he comments: "Every time I open the mail, someone else has died." When I first listened to his tape, I'd been researching Aids and art for two years, but there were still names among his litany I'd never heard before, including the drag queen Brandy Alexander and the beautiful Hibiscus, who went from being a Sixties flower child to a radical performer in the San Francisco dance troupe The Cockettes, performing in full make up, dress and lavish beard.
I suppose this is the point of archives, and the point too of work like Leee's: that it resists obliteration, keeping what is always threatening to disappear in view. His subjects lived at a tilt to society, transgressing social norms of sex and dress and self-presentation in ways that remain subversive even now. His portraits capture this, exuding a magical liveliness, a reckless and informal solidarity. However edgy the subject matter, they're never prurient or voyeuristic. Tennessee Williams used to say: "Nothing human disgusts me unless it's unkind." The same non-judgemental sensibility informs all Leee's work, a kind of radical broad-mindedness that's getting rarer every day.
Olivia Laing is the 2014 Eccles Writer in Residence at the British Library. She's the author of To the River and The Trip to Echo Spring and is currently working on The Lonely City, a cultural history of urban loneliness.
 See also the Lee Black Childers SaMI recording.
28 April 2014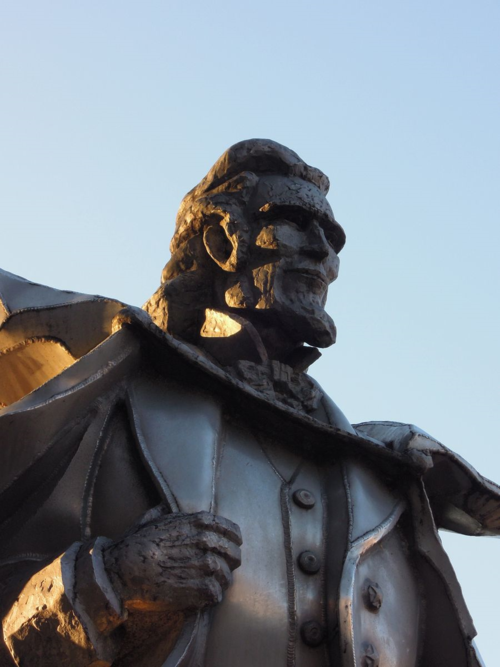 Image © Erica Wagner
Who's that? Why, Uncle Sam, of course – standing in downtown Troy, New York, his native town. Sam Wilson was a meatpacker who supplied American troops during the war of 1812. You might call him this city's most famous son, if he didn't have some stiff competition: Kurt Vonnegut hailed from here (if you've come across a mention of Illium in his work, that's good old Troy), and just this morning, on River Street, I came across a plaque on a house that marked the site of the old Troy Sentinel newspaper – in which Clement Clark Moore first published The Night Before Christmas. 
But I'm grateful to Stephen van Rensselaer, too – who founded Rensselaer Polytechnic Institute here in 1824; it was America's first technical college, and remains one of the world's oldest. RPI was the alma mater of Washington Roebling, the subject of the biography I'm writing, and builder of New York's Brooklyn Bridge. RPI sits above the town, and has the feeling of a city on a hill – perhaps more so than in days gone by, since the elegant campus is sometimes in striking contrast to urban Troy. Once one of the country's wealthiest cities thanks to its rich manufacturing heritage (everything from shirt collars to steel), these days there are plenty beautiful brownstone houses which are boarded up and broken down. 
That said: this morning I headed to the Troy Waterfront Farmers' Market – and found a thriving local produce market which was positively inspiring; if you ask me, it made the Greenmarket in Manhattan's Union Square look a little tired, which is saying something. It was a lively scene: and in downtown, certainly, many of those lovely old houses are getting the care they deserve. I was last here at RPI about four years ago; since then it does seem like business is coming back into the city at last. Uncle Sam would be proud. 
Erica Wagner is a 2014 Eccles Centre Writer-in-Residence at the British Library
04 April 2014
As a historian I get very excited about old letters, diaries, account books and inventories – but once in a while there are other 'records' that trump almost everything else.
I had one of those moments this week when I returned to George Washington's Mount Vernon. Over the past six years I have been many times to Washington's estate in Virginia (just south of Washington DC) – first to research my book  Founding Gardeners and then to give talks about the book. By now I go there to see the changes in the gardens (of which there are many, such as the fabulous restoration of the Upper Garden) and to meet my friend Dean Norton who is the Director of Horticulture there. Dean always makes a huge effort to entertain me – for example, by taking me out on the Potomac in a boat or letting me drive around the estate with a gator [A John Deere utility vehicle, not a reptile - ed.].
Last Wednesday's visit, however, was one of the most memorable. Within a little more than a month, three very old and important trees had come down. The most visible loss is the majestic Pecan tree next to the house. It was a shock to see Mount Vernon without the beautiful tree (145 feet high). It all looked a bit naked.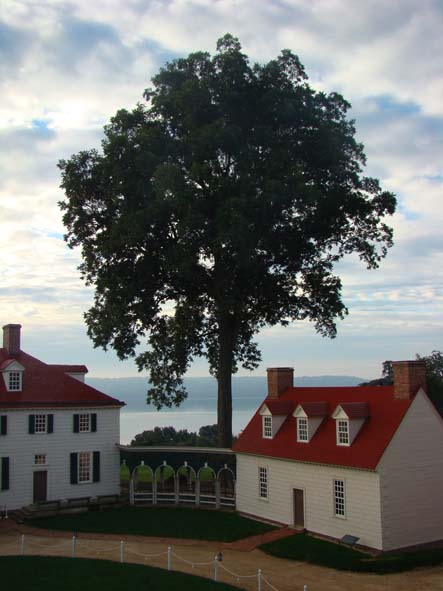 Mount Vernon's Pecan before it was taken down (photo by Dean Norton)
Dean explained to me that they had finally decided to take down the tree because it threatened the house. One big storm and the Pecan might have crashed onto Washington's house. No matter how old the tree (from the 1850s), the mansion and its content was of course more important.
It took four days to take the giant down – with a crane. They did a fabulous time–lapse film of it.
Click here to see the film.
At the same time they felled a white oak that had been killed by lightening a while ago. The white oak was in a less prominent spot but it was even older – pre–1770 and most likely planted by the great man himself. Another painful loss. At least the wood is now invaluable for restoration projects at the house.
And then, on 31 March, the next tree came down – crumbling under its own weight. This was a big swamp chestnut oak which grew at the ha-ha wall on the slope towards the river. Planted in the 1760s or 1770s it was probably also placed there by Washington. It was completely rotten from the inside and just needed that last bit of wind to crash down. It's so sad to see these giants lying broken on the ground.
When I scrambled around to pick up a bit of bark to take home as a memento, Dean got a chainsaw and sliced off a bit for me. Now I have my own Washington tree in my office. That's the kind of history that gets under my skin.
Andrea Wulf is a Eccles Centre Writer-in-Residence emeritus.
04 October 2013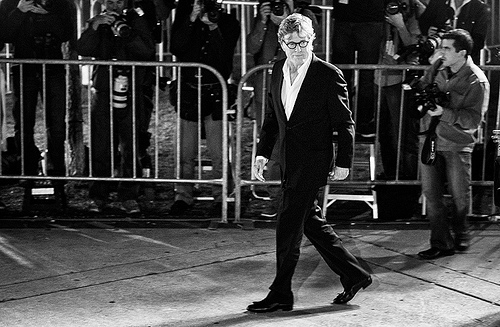 Robert Redford at The Company You Keep premiere. Photograph by Sam Javanrouh, 9 September 2012 via Flickr, CC BY-NC 2.0
I've seen it three times now and Robert Redford's The Company You Keep is mostly a fine mix of thriller and (mainstream) political reflection. Based on the 2004 novel of the same name by Neil Gordon, the film tells the story of Jim Grant, a widower with a young daughter, whose secret past with the Weather Underground – and his alleged role in a botched bank robbery during which a guard was murdered – unexpectedly comes to light after three decades of living a socially useful aboveground life, forcing him to go on the run to prove his innocence. It's an enjoyable thriller, with fine leads in Redford, (who also produced and directed) and Shia Labeouf, and standout cameos from Susan Sarandon, Chris Cooper, Nick Nolte, Brendan Gleeson and relative newcomer Brit Marling. Enjoyable – and (hopefully) thought provoking, which was surely Redford's intention when he bought the rights to Gordon's book and put so much of himself into making this project happen. For, if any period in American history needs a rewrite and a total re-evaluation it's "The 60s" – and this film may well drive curious souls to read some of the non-fiction histories of American dissent during that time, (my own recommendation would have to be Dan Berger's excellent Outlaws of America: The Weather Underground and the Politics of Solidarity, which is both honest and very moving).

However, as much as I enjoyed the movie, I was prompted to wonder just how much has to be conceded in order to talk about the realities of the 60s and 70s to a wider public than would normally be interested in radical politics. Where Gordon is clear that "only property was destroyed" in Weather Underground actions (a point made, early in the book, by a Republican whose husband was killed in Vietnam), it also refers to "the Bank of Michigan robbery", supposedly committed by a Weather splinter group, in which a guard was murdered - and both film and book show Jim Grant going on the run to prove his innocence in that crime. The trouble is, there was no such action at the Bank of Michigan in 1974. The robbery - and, of course, the murder of the guard – is a fiction. Compounding the problem is the fact that, in both novel and film, three Weather Underground members are shown as being present at this fictional robbery, effectively undermining the point made earlier – which was that the Weather Underground targeted property (mostly symbolic buildings, like the Pentagon), not people. These were pacifists whose principal ethos was the opposition of violence against human subjects - any human subjects. Weather bombings were preceded by ample warnings that allowed buildings to be evacuated, and in their entire history, the only people killed were the three Weather members who died in the infamous Town House Bombing, when a bomb they were building accidentally exploded.

Is this important? Isn't a writer permitted to invent things, even in the course of a historical novel? Should a film not be ready to make some factual concessions, in order to set up a mature political debate and, perhaps, educate people in the subtler details of radical politics? Well, yes: up to a point. Yet there is a point and, for me, the invention of the Bank of Michigan robbery is a concession too far. I think I know why both Gordon and Redford made that concession: to get their other points across, they probably felt the need to meet mainstream opinion halfway, (and mainstream opinion, sadly, still clings to a more comfortable and hazy view of the 60s and 70s than can be justified). And if that is the case, then at least we can be grateful that those other points got made. Leaving the cinema, however, anyone with even a rudimentary awareness of that era (or of the political corruption our own time, for that matter) and of the background of intolerable violence in which these events unfolded, would not feel that the central character has to prove his innocence of a crime that never happened, when the wider society has done so little to set right the injustices that it perpetrated then, and continues to perpetrate today.
John Burnside is an Eccles Centre Writer in Residence for 2013
19 August 2013
As a historian I'm spending much of my time in archives and libraries. Carrying huge folios or maps is the only physical activity involved in that – but sometimes my research takes me to other (maybe slightly more exotic) places.
I've just come back from an extraordinary trip to Ecuador and Venezuela where I followed the footsteps of Alexander von Humboldt for my new book 'The Invention of Nature'. Armed with transcriptions of Humboldt's letters and diaries – which were of course mostly done in the British Library – I climbed in the Andes, paddled down the Orinoco and got soaking wet in the Llanos.
From 1799, for almost five years Humboldt travelled through South America, Mexico and Cuba – I had only 15 days (and I skipped Mexico and Cuba). I went to the archives in Quito where I saw Humboldt's passport from the Spanish king and many of the drawings he did while in South America. I saw river dolphins swimming in the Orinoco and capybaras playing in the flooded plains of the Llanos. Tarantulas were our breakfast, lunch and dinner companions – not quite what I'm used to in the Rare Books Reading Room in the British Library.
Most exciting of all, however, were the Andes. Humboldt spent months and months climbing along the mountain chains and valleys, gathering material for his new vision of nature. When he reached Quito in early 1802, he systematically climbed every volcano nearby. He crouched on a precariously small rock ledge on the Pichincha to stare into the deep crater, on the Antisana he encountered rain and wind so vicious and cold that it felt like ice–needles piecing his face, he tried (but failed) to reach the perfectly cone–shaped summit of the Cotopaxi and then went up the Chimborazo (then believed to be the highest mountain in the world).
I tried to do some of this – I got to the crater rim of the Pichincha, but no way I was going to hang over that ledge! On the Cotopaxi we were enveloped in thick fog and didn't see a thing. My fabulous guide Juan Fernando Duran Cassola found the hut on the Antisana at 4000m where Humboldt spent a miserable night before climbing the volcano. Standing there last month on a clear sunny day with the glorious snow–capped peak of the Antisana behind us and four majestic condors circling above, we were suddenly surrounded by a herd of wild horses. Research can't get better than that – or, so I thought … until we went up the Chimborazo.
It was on the Chimborazo that Humboldt's vision of nature as a unified whole came to a conclusion – a web of life in which everything was connected. For Humboldt, climbing the Andes was like a botanical journey which moved up from the equator to the poles – the whole plant world seemed to be stacked up on top of each other. The zones of vegetation ranged from tropical plants to the snow line near the peak. There were palms and humid bamboo forests in the valleys, and further up conifers, oaks, alders and shrub-like berberis similar to those in the European and northern Asian climates.  Higher still, Humboldt encountered Andean zones with alpine plants, many of which were similar to those he had seen in Europe. With 'a single glance', he said, he suddenly saw the whole of nature laid out before him.
As we scrambled up the barren slopes of the Chimborazo with the air getting thinner and every step getting harder, I couldn't imagine how it must have been for Humboldt. At least I had seen photographs of the Andes before I went there, but here was Humboldt, a former Prussian mining inspector, dressed very inappropriately for such a climb and carrying his instruments up the volcano. Every few hundred feet, for example, he would measure the boiling point of water, he measured the blueness of the sky and bottled air to investigate the chemical components. Madness. I was wearing proper hiking boots and only a little rucksack with some food, extra clothes and water (and didn't have to camp outside) but still every step was exhausting.
When we reached 5000m (the highest base camp today on the Chimborazo) we stopped – less than 1000m below where Humboldt went. The clouds came rolling in while we were bathed in sunshine. This really felt like being at the top of the world – and very close to Humboldt.
Andrea Wulf is an Eccles Centre Writer in Residence for 2013.
30 July 2013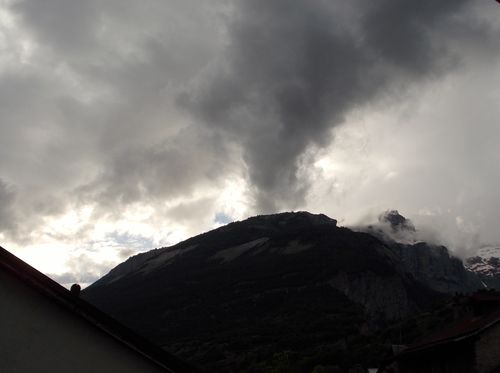 Image (c) John Burnside
For as long as I don't know the name of a character, I don't really know that character. This might sound obvious, but the obvious can be as useful as the subtler points while a novel is taking form. Over the last few months, I have become quite closely acquainted with several of the characters in the novel that, having begun with a crude working title, ('Good'), I now think of as something along the lines of 'American Salamander', (working title) or some variant of this that includes the words Salamander and Fire, (though, of course, the salamander species one finds in the United States are distinct from the Fire Salamander of European myth). I have been particularly engaged with Jennifer, the daughter of a military officer (Jeremy) who begins her student career as a botanist, but abandons her studies to work as an activist with SDS and later The Weather Underground. Until recently, however, what I knew about her brother was not enough to see him clearly: it was like gazing at a stranger across a smoky room without my glasses.
Research takes us to odd places, but research and happenstance combined are where the real nuggets of inspiration are found, (more stumbled upon than mined, perhaps, but the end result is equally heartening). Thinking about what to call this brother – a Vietnam enlistee who goes AWOL two thirds of the way through the novel – I finally came to the obvious: he is called Martin, after the Roman soldier who cut his cloak in half so he could share it with a beggar, who would otherwise have died of cold – and then, because I was kindly offered refuge to write and research at the Spycher-Leuk residency in Switzerland over June and July, I got to spend the last month and a half walking in the mountains, during breaks from researching and drafting. Gradually, this strange boy began to emerge: he is high-minded, he believes hard in his country's stated values, but he is also a little wild, a boy who loves motor cycles and mountains. Here I seem to have the makings of the man who later goes AWOL, not because he is afraid of battle, or even for specific political motives, but for reasons of individual pride. Quite simply, he comes to believe that the Vietcong are better soldiers than the US Army, not because he doubts the individual courage or ability of his fellow Americans, but for reasons that can only be called systemic. He still believes the US will win the war, but he believes that victory will be a cheat, and he wants no part of it. If he could go over to the other side and fight with the VC, he would, if that didn't mean betraying his values, so he is caught between a rock and hard place, where withdrawal is his only chance at Good, (the book's central idea, though in his case, old Roman notions of virtue is more appropriate). In this, he is the very opposite of his sister, who is committed, at home, to engagement.
This is some way down the line, however. Right now, what matters is what Martin feels about the mountains and 'research', for now, consists as much of walks in high alpine meadows as reading radical ephemera of the American 60s and 70s, or studying the works of early botanists in the Southern states. To assuage my lingering work ethic, I'm thinking of this as fieldwork.
John Burnside is an Eccles Centre Writer in Residence for 2013.
20 June 2013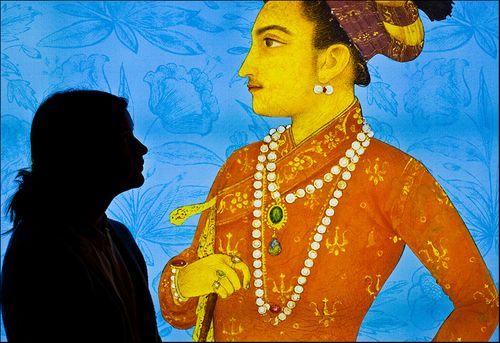 Image © Ander McIntyre
A portrait of Naomi Wood at the Moghul exhibition at the British Library in December 2012.
Naomi is one of the Writers in Residence at the Eccles Centre for American Studies, the author of The Godless Boys (Picador) and Mrs Hemingway (forthcoming from Picador).
[Ander McIntyre is a photographer and a Fellow at the Eccles Centre for American Studies at the British Library.  He is an occasional contributor to this blog.]
13 June 2013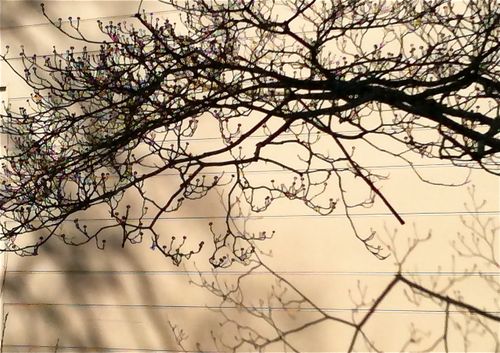 Image © John Burnside
Five months into my Eccles Fellowship term, I can think of several reasons why my latest project has yet to acquire a title, (other than the embarrassingly vague-sounding working title I began with, i.e., 'Good', which is, as all working titles are, a piece of private shorthand for those questions Seneca poses, in De ira and elsewhere, about how we might do good, how we could be good, beyond the mere dictates and prohibitions laid down by the law. How do we oppose or correct injustices? How do we counter the cynicism and corruption of what people of my generation used to call 'The System'?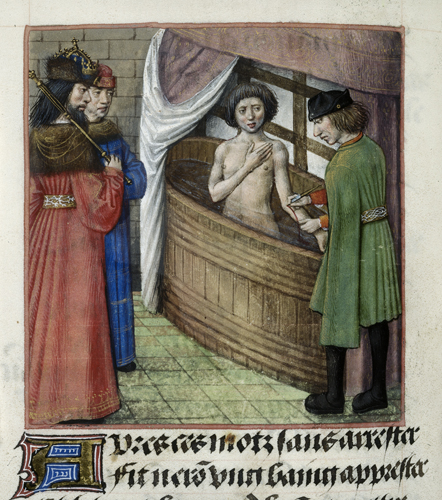 [Detail of Seneca sitting in a bathtub while a man is slitting his veins, obeying
Nero's orders. This image, Harley 4425, f. 59v, identified by the the
British Library, is free of known copyright restrictions.] Seneca's philosophy has always been a preoccupation of mine, and the underlying ideas in this as yet unnamed novel have their
source in his writings.
It is frustrating, this lack of an expressive, or perhaps evocative title – but then, this stage of the project not only coincided with a whole series of eerily familiar events at home, from tangles with political corruption in my own back yard to family illness and bereavement (both of which feature strongly in the novel's plot) but it also happens to be the point in a novel's development when, as usual, I find myself dismantling my one big idea, like a technician dismantling a machine to see how the internals work.

'Good' is a novel that spans eightyish years, revolving mostly around two main characters, a brother and sister, both of whom I could see very clearly from the first. One of these characters (for the moment, his name is Jeremy) has two children, a son and a daughter, both of whom become involved in the politics of the 60s and 70s – and it is this daughter, whose name is almost certainly Jennifer, I am pursuing through my research. Though, on reflection, 'pursuing' is perhaps too strong a term. Too deliberate. What I have really been doing, for five months, has been a process that I think of as active waiting: reading, not reading, being attentive to chance happenings, looking at pictures, travelling – there is usually a fair amount of travelling, for me at least – and both thinking and trying not to think too much. Now, I believe Jennifer has shown up, in some ways very different from how I first saw her, but also, for me, much more interesting - and maybe that is the point of research, in the end. That is the point of dismantling the big idea and peering into the darkness of the machinery: to undermine the self, to run counter to initial impressions and (hopefully) to surpass those first expectations.

The process of finding Jennifer began in the reading rooms of the British Library and took me, by way of Williamsburg, Virginia – where Jennifer goes to college for a time before becoming a political activist – and various other wanderings, to (inevitably, though for the moment, only virtually) to the National Archives in Washington DC.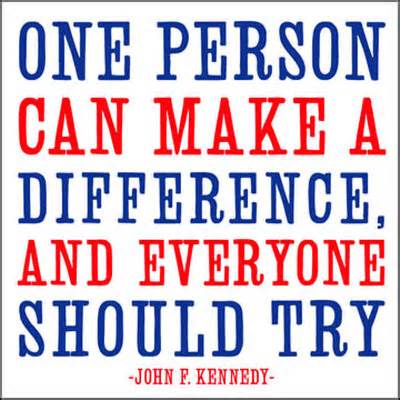 Jennifer is a political activist, inspired as much by the rhetoric of mainstream American politics during the Kennedy years as she is by more predictable thinkers like Karl Marx, Malcolm X and Che Guevara
The next stage of the process - the proof of the pudding stage - is to write down what I found.


John Burnside is an Eccles Centre Writer in Residence for 2013.