20 December 2012
Earliest surviving Mughal document?
Possibly the earliest Mughal document, a land grant dating from 1527 (IO Islamic 4720/1)
This decree (farmān) of Babur is dated 13 (or possibly 30) Zu'l-Qaʻdah 933 (August 1527), just a few months after his decisive victory over Rana Sanga of Mewar and his confederates at the battle of Khanwa in March 1527. It was issued in the name of Ẓahīr al-Dīn Muḥammad Bābur Ghāzī ('holy warrior', a title he had assumed after his recent victory) and confirms the grant of a village, Panchal Gul Pinduri (the exact form of the name is uncertain!) in the Pargana of Batala, Punjab, as a hereditary grant (suyurghāl) to the Qazi (magistrate) Jalāl al-Dīn. The revenue of this village amounted to 5,000 copper coins (tankah-i siyāh) and was tax-free. The beneficiary was not required to petition annually for the renewal of this grant.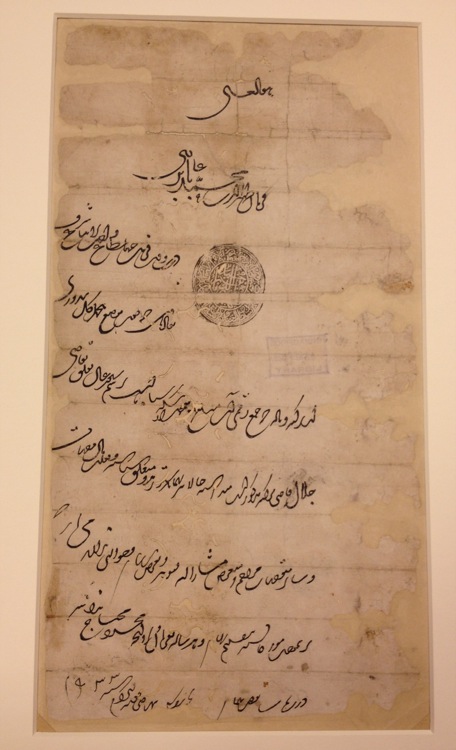 Above: Babur's farmān dated 933 (1527)
Very few original documents survive from Babur's reign; S.A.I. Tirmizi (see below) lists only four. This one is particularly interesting. The early date suggests that under Mughal rule a new grant was required to confirm Jalāl al-Dīn in a post which he had probably already held under the Lodhi Sultans of Delhi. The use of the administrative unit parganah, a term for a collection of villages which had been in official use in India from the 14th century, demonstrates the Mughals' continued use of an existing administrative structure. However, the grant itself is called a suyurghāl, a Mongol term for a hereditary grant. Other new terms used are mutavajjihāt and māl u jihāt, both names of taxes found in documents of the Turkman and Timurid dynasties which ruled much of Iran during the 15th century.
Babur's dynastic seal
Babur's seal is the earliest known example of the Mughal dynastic seal, which developed under Akbar and his successors into a stylised central circle containing the ruler's name surrounded by smaller circles containing his ancestors as far back as Timur (Tamerlane). Here Babur's name is placed in the centre, while around the edge (right to left) are those of his paternal ancestors, each enclosed in a lobed panel: ʻUmar Shaykh, Sulṭān Abū Saʻīd, Sulṭān Muḥammad, Mīrān Shāh, and Amīr Tīmūr. The seal is dated 928 (1521/22).
Shaykh Zayn al-Dīn Vafā'ī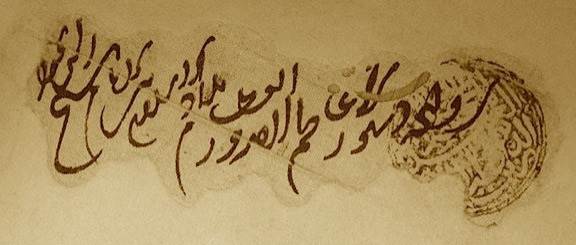 Above: Shaykh Zayn al-Dīn's endorsement
The back of the document contains seal impressions of several officials, including Shaykh Zayn al-Din Khvāfī (d.1533/34). His seal is stamped under his endorsement which reads: 'Edict (parvānchah) of Shaykh Zayn al-Dīn, chief authority of great judges of the Islamic world among men'.
Shaykh Zayn is mentioned several times in Babur's autobiographical memoirs (Vaqi'āt-i Bāburī) of which the earliest dated manuscript (British Library Add. 26324), is on display in the exhibition. He also translated the work from Chaghatay Turkic into Persian. He was responsible for drafting several decrees – most notably, perhaps, the one in which Babur formally renounced alcohol before the battle of Khanwa in 1527. Shaykh Zayn was also an accomplished poet, writing under the name Vafā'ī.
Further reading
S.A.I. Tirmizi, Mughal documents (1526-1627), Delhi: Manohar, 1989, pp. 44, 146-9.
M.Z.A. Shakeb, A descriptive catalogue of the Batala collection of Mughal documents, 1527-1757 AD, London: British Library, 1990, p. 1.
Momin Mohiuddin, The chancellory and Persian epistolography under the Mughals, Calcutta: Iran Society, 1971, p. 76, 79-81. Includes a photograph of this document.