10 February 2014
Are you the next Internet Icon?
'Web in Feb' is our Business & IP Centre series of events in February where we are helping you and your business make the most of the ever-expanding digital landscape. Access to the Internet using a mobile phone more than doubled between 2010 and 2013, from 24% to 53% in the United Kingdom stated this OFCOM report. Internet users are increasingly making online purchases either at home or roaming on their digital devices.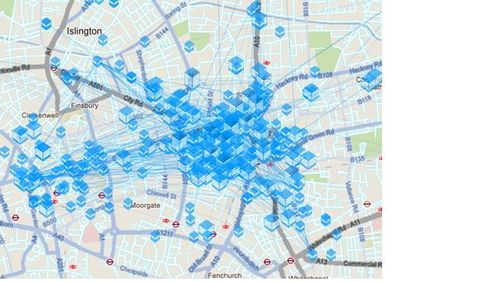 Photo Source – TechCity, East London Map
London may not have been the birthplace of Facebook, Apple, Google or Twitter but there is a growing tech community which is a friendly rival to Silicon Valley – with rapid growth in the number of technology based start-up businesses that are riding the wave in the capital. 
Some of these giant companies have set up houses in what is now known as Tech City UK in Shoreditch, East London. Supported by the UK Government, this is a technology cluster providing support to entrepreneurs to set up in Tech City by providing practical, online and face-to-face advice on everything from location to guidance on exports, introductions to investors, talents and other contacts.  Do have a look at their resources and success stories to share for inspiration. 
One of the reasons for the success is the ecosystem around of start-ups, support, location and possibility… timing of a community space. Seen as a hub for innovation - there are a few accelerators like well-known Seedcamp and co-working spaces where you can also network, pool knowledge, collaborate and forge business together.  If you are looking to get in, check organisations located there on this map and to find physical space see Trampery, TechHub, and this guide by Shoreditch Office Space. 
Not just focussed on London, it seems that tech hubs are also blossoming up and down the country such as in Croydon – with Leeds, Sheffield and Manchester looking to be the 'Tech City of the North'.  
`           Photo Source - Shutl
In the Centre and with our partners Lucidica and Grow, we have our own success stories for supporting online and tech businesses. We can direct you to the relevant information, advice and experts. 
Shutl, one of our customers, received free advice as part of our Innovating for Growth programme to help their company to grow. During their time they received advice on their strategy for business growth, product development and market penetration.
Their business provides an integrated web service across a retailer's various channels to offer shoppers immediate and convenient delivery.  This was the first and only delivery service of its kind in the UK, with major retailer Argos as one of the first and major customers. Just after they completed the programme, they were acquired by eBay Inc, with plans to expand to the US market.
Startup Flubit founders Bertie Stephens and Adel Louertatani launched a social-commerce website called Flubit in April 2011. Flubit breaks away from the traditional commission-based model by giving online shoppers unique and discounted offers on products they want to buy.  Find out how he applied what he learnt from the Centre's intellectual property workshops and advice sessions with phone box millionaire, Stephen Fear on our video.
 These are just some ways we are happy to ride this wave and support you in your online or tech business ventures. 
Keep your eyes out for all the events we have planned for Web in Feb , including our next Inspiring Entrepreneurs 'Internet Icons' with Nick Robertson OBE of ASOS, Kathryn Parsons of Decoded and Nick Jenkins of Moonpig.com.
 Seema Rampersad on behalf of Business & IP Centre