What else do we do?

Occasionally we organise a conference …
I had been asked over a year ago to organise what would become the Fourth Annual WESLINE Conference (2nd to 5th September 2009) – in Durham. WESLINE stands for 'West European Studies Library and Information Network', and it is an active and dynamic professional studies interest group for librarians working with West European-language materials, highly-regarded by its membership, and an umbrella group for the individual French, German, Italian, and Hispanic/Latin American studies library groups. And the reason why I had been asked to organise this event in Durham has to do with the fact that whilst I work in the German Section of the BL in London, I happen to live in the beautiful cathedral city of Durham in the north of England. Yes, I am a regular long-distance commuter. (The background to this might be revealed to readers of this blog in a future posting...)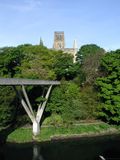 [Photo by Tim Packer]
What makes a good conference?

Already in the first planning stages, I decided to model this Durham conference on the tried and tested pattern of the numerous excellent German Studies Library Group conferences which I have been fortunate enough to attend during my time at the BL. Last year's WESLINE conference had been organised by two BL colleagues, senior to me, and at their home institution, and I would be organising this conference largely alone and at an 'away' institution – so I knew I had my work cut out for me. This conference was to be run over three days, as a residential event in one of the Durham colleges (Van Mildert College, as it turned out). It seemed an excellent idea to have the conference in Durham, a fantastic location and home to one of the UK's top universities, England's third oldest – somewhere outside the 'golden triangle' (for a change!) The programme would incorporate visits to historical and modern library sites and include discussions on relevant library matters relating to West European language materials. But as its most significant component, it would include papers by members of the academic teaching staff in the School of Modern Languages and Cultures at Durham University, one of the leading schools of its kind.
I aim to be a good organiser. However, as a part-time member of curatorial staff, organising an event away from my home institution, I needed for quite a while to work pretty much full-time (especially in the run up to the conference), and to liaise closely with colleagues at the host institution, Durham University Library.
I aimed to exploit to the full all that Durham has to offer: its wonderful, historic library buildings in a World Heritage site; its fabulous special collections; its buzzing Main Library (in the midst of refurbishments for a planned large extension, which added to the logistics I needed to juggle!); its world-renowned Cathedral and beautiful Cathedral Library; the very special 'hidden treasure' which is Ushaw College Library; but, above all perhaps, its expert and friendly academic and library staff, who provided presentations, tours, displays – and a really wide range of content for us all to chew over. I know Durham well – I was a visiting student there from Tübingen University (more years ago than I care to remember) at St Mary's College, and I had my first library post in Durham immediately after qualifying as a librarian (from Aberystwyth). I knew what a wonderful place it is, but I knew that many delegates would have little or no acquaintance with it, so I was looking forward to their falling in love with it too. I hope that a few of the delegates really have …
Over forty delegates (and speakers) took part, from a wide range of university and research libraries, including the London Library, Senate House Library, the John Rylands, the Bodleian, Cambridge University Library and Cambridge's Modern and Medieval Languages Faculty Library and its Murray Edwards College Library, UCL, King's College, Glasgow, Aston, Leeds, Warwick, Westminster, and West of England university libraries, plus a contingent of seven from the BL. (It was good to have the moral support of BL and German Studies Library Group colleagues attending.)
The feedback I have received so far has been very positive and hugely encouraging. I know that librarians are nice people (!), but they have all said really, really nice things, so I think the conference has, genuinely, been much appreciated and has been enjoyable and profitable for all the delegates who attended. In short, I loved organising this conference, and now that I've just about recovered, would still, I think, say 'yes' the next time I'm asked – as long as that's not too soon!
[DM]