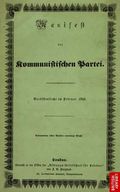 This week the BL (in association with Jewish Book Week) held a lecture to celebrate our acquisition of the first edition of the Communist Manifesto – or Manifest der Kommunitsischen Partei – published in 1848. Acquiring a copy of this rare item was a long-held ambition for me, but even more so for our head of 19th-century British collections. British? Yes, because although the work was written and published in German by Germans, the actual place of publication was London: the 'Office der "Bildungs-Gesellschaft für Arbeiter"' to be exact. It's not certain where precisely that was, but it may have been not far from today's BL, in Warren Street where a radical German newspaper was also published; there were links between the two ventures. It's often claimed that the Manifesto's Fraktur type had to be rushed over from Germany, but since the Bildungs-Gesellschaft had already had a sample issue of a Kommunistische Zeitschrift printed in 1847, and the Manifesto's printer, J. Burghard of Liverpool Street, was already working for Germans in London, there would no doubt have been plenty of type already to hand.
The complex printing history of the Manifesto has been throroughly described by Thomas Kuczynski (BL shelfmark X.0702/426(49)). Monday night's excellent speaker, Professor Gareth Stedman Jones focused instead on the Manifesto's intellectual origins and its influence. He described how the communist groups which began to form in early 19th century were influenced by radical Christian ideas or rational utopianism. Marx broke new ground by largely writing this intellectual background out of the story and associating communism instead with the growing industrial proletariat.
However, the Manifesto and its ideas initially attracted little attention. This was partly due to Marx himself: when European revolutions broke out in 1848, he saw this as the beginning of a 'bourgeois revolution' which must be completed before the rise of the proletariat could follow, so he devoted himself to supporting this first revolution and, as it were, put communism on hold. This explained something that had surprised me in my own recent 1848 research: I'd found no obvious references to the Manifesto in the material I've been studying, and even the term 'communist' hardly appears. But if the standard-bearers of communism were playing down their ideas, it was unlikely that others would pick them up. It was only in the 1870s that the Manifesto began to receive serious attention, gradually gaining influence among socialist and communist groups until it achieved canonical status after the Russian Revolution of 1917.

And the frightful hobgoblin? That comes from the first English translation of the Manifesto, by Helen MacFarlane, published in the magazine The Red Republican in 1850 (BL Shelfmark: RB.23.b.6333). Instead of the now-familiar translation, 'A spectre haunts Europe', MacFarlane translated Marx's 'Ein Gespenst geht um in Europa' as 'A frightful hobgoblin stalks through Europe'. Evocative, certainly, but I think English readers are better off with the spectre.
[SR]