05 December 2014
Two 'Off the Map' games available as free downloads
A couple of months ago I blogged about the 2014 Off the Map competition winners announcement at GameCity9 Festival. Well, since then two of the winning teams have demonstrated their games at the British Library for International Games Day at Your Library. Seeing the Oculus Rift set up in the Library was brilliant!
Furthermore, I'm pleased that these two teams have now made their games available as free downloads.
The  2014 first place game Nix was created by Jackson Rolls-Gray, Sebastian Filby and Faye Allen from the University of South Wales. Using a virtual reality Oculus Rift headset, the game challenges players to reconstruct Fonthill Abbey via collecting hidden and moving glowing orbs in a spooky underwater world.
You can follow instructions to download Nix here (note: you will need your own Oculus Rift headset to play it). If you don't have an Oculus Rift, then you can see a flythrough of their game on YouTube:
The second game is from one of the 2014 runners up, team Shady Agents, also from the University of South Wales, who have released their Edgar Allan Poe-inspired game Beneath the Crimson Moon here.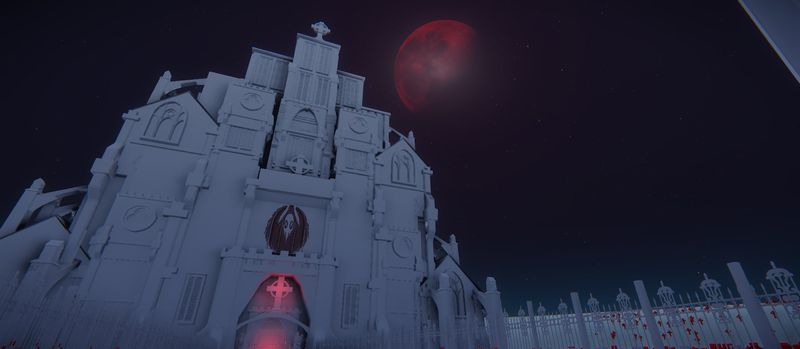 Image from Beneath The Crimson Moon
After the delights of the 2014 competition connected to our exhibition Terror and Wonder: The Gothic Imagination. The  2015 Off the Map competition is linked to the 150th anniversary of the publication of Alice's Adventures in Wonderland and is fittingly called 'Alice's Adventures Off the Map'. Curators have selected an amazing range of maps, photographs, texts, sounds and illustrations, which we are keen to share with Off the Map participants.  
'Alice's Adventures Off the Map' will be launched at the British Library on Monday 8 December 2014, at one of the Digital Research team's free evening Digital Conversation events. If you would like to come along to find out more, please book here.
Stella Wisdom
Curator, Digital Research