31 March 2015
Digital Music Events at the British Library
On Friday 13 May, we organised here at the British Library the final workshop for the Digital Music Lab project. Prof. Lorna Hughes, Chair in Digital Humanities at the School of Advanced Studies, opened the event with a stimulating talk entitled Digital Humanities, Big Data and New Research Methods in which she discussed the challenges faced by todays' digital humanists when working with big data.  The rest of the morning  was dedicated to short presentations by the project members who explained to the audience the aims of DML project  in developing methods and technologies to extract, visualise and analyse thousands of audio recording files from three major repositories, British Library Sounds, CHARM and I Like Music as to compare information on relationships between different musical genres; discover patterns within similar musical styles and visualise changes in tonality, pitch and tempo as applied to a variety of genres as well as within a single piece recorded by different artists in different times and locations.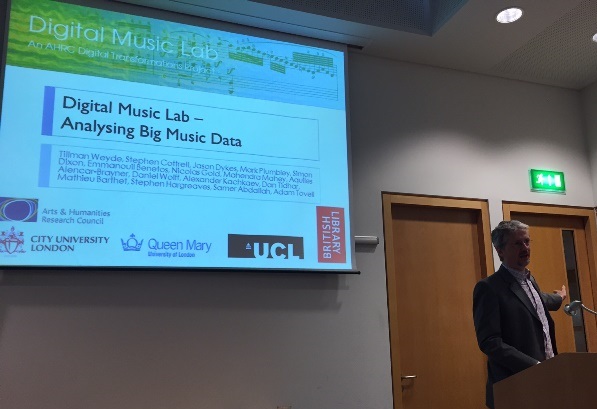 Dr. Tillman Weyde, Principal Investigator of Digital Music Labs, describing the project.
In the afternoon attendees had the chance to explore the DML Web interface that is being developed to visualise and compare audio collections from the datasets used by the project. We had useful feedback from participants and are now working on the improvement of the tool in response to the comments received. The day ended with a general debate in which attendees could share their comments not only on the project but also on specific requests and challenges in their own research fields while working with big data.
We will continue the discussions on Digital Music Lab and other similar projects on our next Digital Conversations event that will take place at the BL on Thursday 21 May 2015 from 18.00 to 20.15. So, if you missed the DML workshop you still have a chance to catch up on the latest developments in big data analysis for musicological and performance research and share your ideas, experiences and opinions about the theme.  Free tickets to attend the Digital Music Analysis  evening can be booked at http://bit.ly/1BWd8FH
Aquiles Alencar-Brayner
Digital Curator