10 April 2015
Rob Sherman's End of Residency Seminar
All good things must come to an end and sadly this month that includes Rob Sherman's residency attached to the Lines in the Ice exhibition and funded by CreativeWorks London & The Eccles Centre for American Studies. However, before we wave goodbye to Rob, we are having a free seminar at 2:30pm on Friday 17th April, to celebrate what he has achieved, there will also be special guests, tea and cake.  If you would like to come along, then please book a place here.
Rob has documented his residency at http://onmywifesback.tumblr.com/ and it has been an interesting exercise to reflect on what he has created since last August. Rob has made original art, both physical and digital, in response to the exhibition; including a book hand bound with support from the Library's Collection Care department (you can read more about this in their blog). The book was artificially aged to look like it is a real traveller's journal from the mid-19th Century and it has been on display in the gallery: baffling, delighting and amusing visitors in equal measure!
Rob also crafted a "digital cairn" for the gallery; this is a piratebox, i.e. a little web server which can only be accessed in the exhibition itself and which, when explored using a wireless device, reveals information about the travels of a man called Isaak Scinbank between the years 1852 and 1853 (a fictional character created by Rob, whose narrative is related to the real historical accounts of the lost Franklin expedition, which features in Lines in the Ice).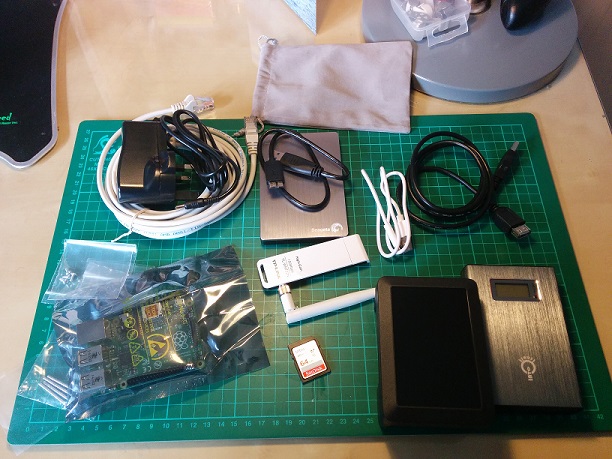 Components used by Rob to build the "digital cairn"
Furthermore, in addition to the diary and the digital cairn, Scinbank's story is also told via a Twine game, available at http://www.bl.uk/eccles/onmywifesback/ (best accessed using the Chrome browser).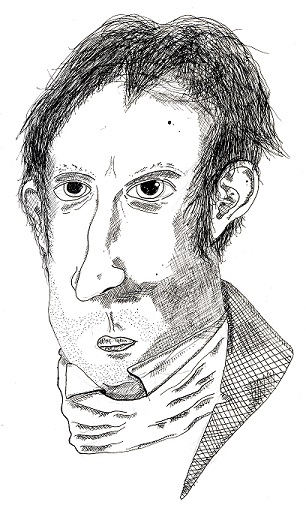 Portrait of Isaak Scinbank, by Rob Sherman
There have been previous events too; on the 17th January Rob hosted a public drop-in session in the gallery, where he invited visitors to talk to him about his work, this was very popular and one of the most visited days of the exhibition.
Also, he organised and performed at an evening event for the residency on the 5th February, which included readings by Nancy Campbell, J.R. Carpenter and Kate Pullinger. In the audience, was one of John Franklin's descendants (unbeknown to Rob or myself); a week later this lady sent Rob a lovely handwritten letter telling him about the Franklin correspondence in her family's archive. A magical end to what has been a very creative, ambitious and innovative project.